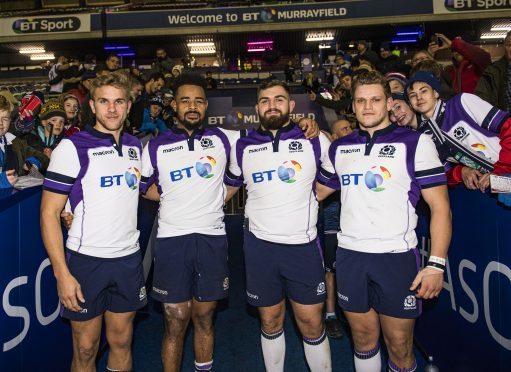 George Turner's last six months have been "amazing", all the more so because the previous three years were such a nightmare.
When he got on the BT Murrayfield pitch for his first cap in front of 67,000 against Samoa on Saturday, the 25-year-old could only reflect on how strange it all was, as back in March he was Scottish rugby's forgotten man.
Now, he seems to be everyone's new big thing. He's played nine times for Glasgow this season – nearly as many times as he played for Edinburgh in three full years – and he's played for his country, a dream that felt so unlikely so recently. Now he's in the squad to face the world champion New Zealand on Saturday.
It was on the bus being piped into the stadium at the weekend, that Turner felt the most nervous.
"I saw all the people cheering us in and thought: I'm actually in the Scotland team this time, not on the others side, doing the cheering," he said.
"Once I was at the side of the pitch, everything felt fine. All I wanted to do was get on and get a bit of game time. But it's been a strange year, absolutely."
Turner started the year farmed out to London Scottish, a familiar feeling as he'd played club rugby at Heriot's and Melrose, while his chances for Edinburgh, stuck behind Ross Ford, Stuart McInally and Neil Cochrane in the hooker depth chart, were extremely limited.
"Under Solly (former Edinburgh coach Alan Solomon) I played eight games at the start of the season when the World Cup was on, but not  much game time for the rest of the year.
"Then I went to Scottish, played a lot and got on a real high but came back and didn't play for three months so that dropped me right down again.
"It's hard to stay confident when you're not being picked for several years. I played a lot of rugby at Heriot's and then at Melrose and they were always like `you are better than this, stick at it.'
"My dad always said `it's a slow burn, you'll get there eventually'. I wasn't going to quit, playing club rugby wasn't what I wanted but even though there were low points, but I trained hard and kept fit."
George had a champion, however, in then-Scotland forwards coach Jonathan Humphreys, who saw him in training and as a former international hooker himself, knew there was something there.
At Humphreys' advice, Richard Cockerill asked for Turner to get some game time at the end of last season and that was enough to convince Gregor Townsend and Dan McFarland to take him on the summer tour to Australia and Fiji, although he didn't get any game time.
But when Humphreys left Scotland and went to be forwards coach at Glasgow at the start of this season, he hadn't forgotten Turner.
"I know Humps was interested in me and Fordy, Stuart and Neil Cochrane were still ahead of me," he said.
"Richard Cockerill coming in might have changed it up, but I needed a fresh start anyway almost to clear my head. The Glasgow opportunity came up and I've played everyh game except one. It's really built my confidence.
"And now this, winning a cap. It's weird, it's come around a bit fast, I haven't taken it all in, having wanted it to happen for so long."
Meanwhile yesterday Scotland called up Newcastle tighthead prop Jon Welsh to the squad after it was confirmed WP Nel had fractured his arm during the first half against Samoa.
The 31-year-old has 11 caps, the last won at the Rugby World Cup in 2015. He made over 100 appearances for Glasgow until moving to the Falcons, where he has been first choice tighthead for the last two seasons.
Scotland have also lost Glasgow duo Tim Swinson and Rob Harley for the remainder of the Autumn Tests. Swinson suffered a wrist injury while on as a replacement against Samoa and has been ruled out of both the New Zealand and Australia tests, while Harley sustained a knee injury in training which has also seen him return to Scotstoun.
With Magnus Bradbury called up last week and Grant Gilchrist already in the training squad, the Scots are well covered in the  back row and at lock, and are not adding any further names to their training group.