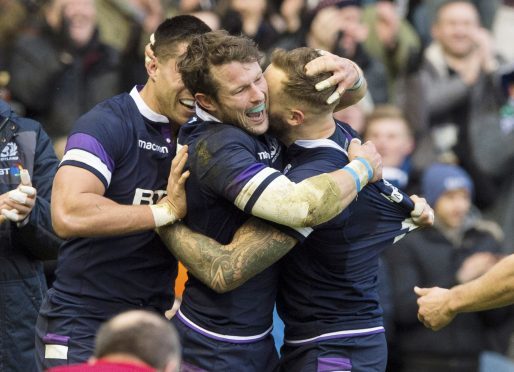 Scotland's players are loving the new freedom given to them by Gregor Townsend in the Autumn Tests – but are ready to knuckle down to make the Six Nations even more memorable, says Peter Horne.
The pride of Howe of Fife slotted in seamlessly as he always does, starring in the Scotland midfield in place of Alex Dunbar as the Scots left the record book in tatters with the 53-24 defeat of Australia, and it was as joyous a day on the pitch and in the dressing room as it was in the Murrayfield stands.
"We're having a ball out there," he confirmed. "There are smiles on faces and that's the way we want to play.
"Against New Zealand we made a bit of a statement, showing that if we keep hold of the ball we can cut up one of the best teams in the world.
"Thankfully we backed that up against a really good Aussie side and put them to the sword. Maybe in the past we've not been clinical enough, so eight tries is pretty cool."
But it won't mean much if they don't sustain it through the Six Nations, he agreed.
"We've been talking about how the belief in the squad is really changing," he said. "In the last few years, you wouldn't leave the changing room thinking: "We're going to go out and beat Australia today" but that was certainly the mood this time.
"But we really need to keep kicking on. We don't want to take one step forward and two back. In the past, we've maybe had one good win and then a disappointing defeat.
"That's we knew we needed to back up the good performance against New Zealand. It's important that we knuckle down in the next few months – and come out all guns blazing in the Six Nations."
Horne's long been the go-to man if Scotland need a place filled in an emergency, but that's happening right through the squad now, even if it's the brilliant Stuart Hogg who is missing.
"It doesn't matter who is playing," he said. "Whoever gets the jersey is expected to do the job.
"So we didn't have Hoggy against Australia and I think a few people in the stands would have been grumbling when they saw him go off in the warm-up.
"But Byron (McGuigan) comes in and gets man of the match, Sean (Maitland) is outstanding at full-back, Ruaridh Jackson comes on to the bench and he's having a cracking season.
"You put it out of your mind and you're chuffed for the next guy getting his opportunity."
Horne is a different kind of player to Dunbar but the backs' defensive goal for the day – no linebreaks conceded – remained and was fulfilled.
"As soon as I go in there next to Finn (Russell) there is a perception that we're two lightweight guys," continued Horne. "But it's something we both relish. We want to get out there and get stuck in.
"Finn's a great defender and so is Shuggy (Huw Jones). It's just making sure there's no weak links."
The Six Nations will be a challenge, but the Scots are confident, he added.
"I think everyone has got to take us seriously now," he said. "England will still fancy themselves, they are flying and have a real winning culture at the moment.
"But last week, as soon as the final whistle went against the All Blacks you just wanted to play them again the next day.
"We want to take on the best in the world and test ourselves against them. It will be great to face England and France at home and Ireland are flying too.
"The Six Nations is going to be really competitive but we can't wait."