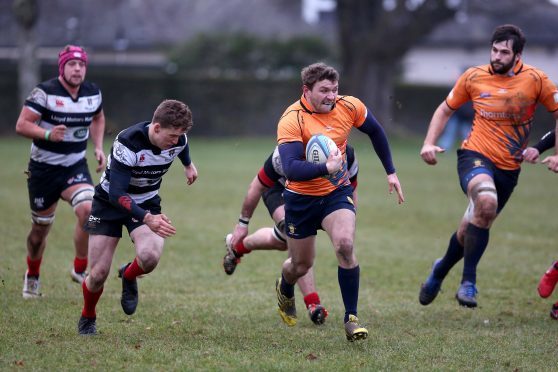 Dundee High's excruciating afternoon at Mayfield on Saturday was only ever going to be finished in one way.
The frustrations were already multiple for the team, coaching staff and a much-disgrunted Mayfield crowd as they probed in the dying minutes for the try which would finally overhaul Kelso in a scoreless second half.
Three times already High had camped on the Borderers' line and three times they'd turned it over through a fumble, steal and a particularly contentious holding on penalty. But they came a final time, a gap opened, and arm stretched out for the line…and almost inevitably the ball was spilled again.
Kelso cleared gleefully, referee Craig Clark blew up, and the promising work of last week's win at Selkirk was completely undone by a home defeat to a side well below them in the league.
The Borderers had played admirably in establishing their 15-10 advantage at half-time –they were easily a score light for their control – but barely crossed halfway in the second half. High had numerous chances to edge in front from where it seemed unlikely Kelso would be able to come back, but as head coach Colin Sangster admitted, his team never convinced.,
"They weren't an attacking threat the whole of the second half, but did we dominate, did we control the game?" he asked rhetorically. "It just seemed every time we put together a bit of phase play we were destined to lose the ball.
"It goes without saying that the win down at Selkirk last week is worth nothing if we can't beat Kelso at home. I was really excited about us following up that win and about the team we were putting out today, but we were just flat all afternoon."
The fumbles cursed just about everyone in the unfamiliar orange change strip on the park, even the usually reliable Isao Matacagi, who dropped a howler when it seemed the Kelso defence had finally run out of bodies. But it was the failure to break through at close range when they did get within stretching range of the goal line that cost them the most.
Sangster thought that the malaise started even before that, after his side had made three scoring chances in the opening five minutes and taken just the one, when George Arnott rumbled in after Kelso had spilled possession in their own 22.
It was just about the last ball they dropped all afternoon. Not noticeably augmented over the recent weather and festive break – there are a few names who certainly don't seem to have been grown on the banks of the Tweed but they've been with the club all season – Kelso's ball retention, continuity and aggressive ball-carrying belied their lowly place in the division.
The key was maybe the quiet authority of veteran stand-off Andrew Skeen, who hadn't played when the sides met at Poynder Park in Seotember and High had won comfortably. His clever grubber set up the try for Ian Sim midway through the first half which was ultimately the difference on the scoreboard.
For High, two men missing might have proved crucial. Alan Brown was coming back from injury with the Titans on an adjoining pitch but his authority in the scrummage was badly missed, Kelso loose head Sam Karlsen being the instrumental figure there. Perhaps even more, the go-forward offered by Ali Mackie, a late scratch due to illness, was also a big miss.
Harvey Young made a couple of searing breaks early on and Neil Herron one that might have lifted his team in the second-half, but the centre was injured in the process and the momentum was lost.
High's lineout was an issue again with too often the jumpers out of synch with the throw. Not even the second half yellow card to Paudie Lawlor, Kelso's big Irish second row, couldn't be capitalised on as the visitors expertly closed ranks, took a knee when necessary, and played out the deficit without damage.
High's season has been frustrating almost all the way along, some excellent results mixed with those like Saturday – inconsistency a sure sign of a young team. Sixth-place and mid-table seems about right for them even if they could have gone fourth with a win on Saturday.
There's plenty youthful promise – Strathallan's Schools Cup winning captain Murphy Walker looked good about the park – but it's taking some time for them to come together.