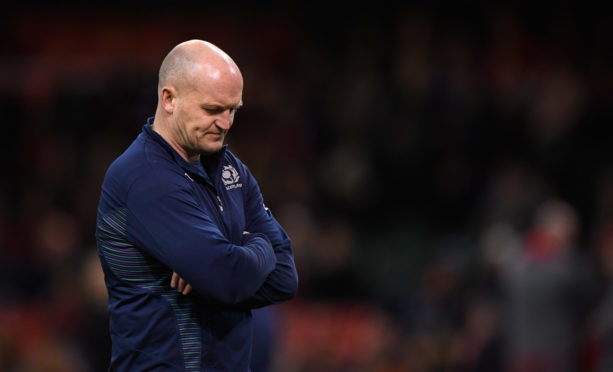 Scotland won't temper their high-octane, high-risk of play even after their 2018 NatWest 6 Nations campaign came crashing off the tracks with another humiliating loss to Wales in Cardiff.
A chastened but unrepentant head coach Gregor Townsend said Scotland will continue with that style despite it making next to no impact on the Welsh defence.
A try from replacement Pete Horne with just two minutes left prevented the shut out but was also the only threat from the Scots much-hyped attacking game in the entire second half as they plunged to a 34-7 defeat.
Scots' dismal Cardiff display proves all their detractors were right
Townsend dismissed the idea that his preferred "organised chaos" game was naïve for the 6 Nations in contrast to Southern Hemisphere opposition as in Scotland's autumn successes.
"This wasn't really a true representation of how we play in attack, how accurate we can be and how good these players can be," said the coach.
"Maybe we went too wide at times, but ultimately that was one element. Other elements were that we lost ball at contact, made defensive errors, didn't win the ball at the lineout.
"You can't say we're running from our own line, that's why we lost. There are times when we have to go forward and narrow a defence, give our forwards easier targets, but that's the way we play."
Townsend thought that his team breached the Welsh defence several times in the opening spell but "weren't accurate enough in our passing and decision making to really hit home that advantage."
"I think a lot of our errors weren't down to Wales rushing up and defending any differently than New Zealand did, or Australia, who are both excellent defensive teams.
"We probably found as many gaps in the defence as we would have in the first 20 minutes of those games in November."
Townsend did accept that the Scots had an issue playing away from home in the Six Nations, with just six wins away from Murrayfield since the championship took on its current format in 2000.
"We don't have a great away record, there's no getting away from that," he said. "I read the stats like you guys on the Six Nations and we have to get better.
"We have to realise that teams will have moments when they're doing well, when the crowd's behind them and when they maybe score a try. We've got to be able to handle that, and this wasn't the answer obviously.
"We've got to find solutions when we go to Dublin and Rome, two very tough places to win, but our focus over next two games is playing at home and making sure that we put in a performance that makes our supporters proud.
"If that gets us to wins then brilliant, but we've got to make sure we perform much better, first of all."
There was no official medical bulletin from the Scottish camp yesterday but wing Byron McGuigan limped off in Cardiff with what could be a hamstring problem. The Scots are hoping that recent injury victims Richie Gray, Alex Dunbar and Duncan Taylor will be back in full training when they reconvene on Tuesday for Sunday's second game against France.
The French, who lost to a last-gasp Jonny Sexton drop goal in Paris to Ireland, announced two squad changes yesterday with the injured teenage stand-off Mattieu Jalibert and back rower Kevin Gourdan ruled out, replaced by the experienced Lionel Beauxis and Louis Picamoles.