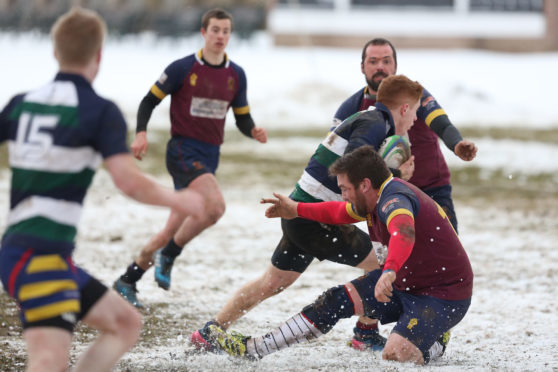 It's easy to love rugby when you're spoiled, flying all over Europe following Scotland, or in one of the best seats in the house at Murrayfield to watch John Barclay and Finn Russell dismantle England.
It can't possibly match the devotion to the game that causes 30 to 40 people to spend two days clearing a pitch of six inches of snow for a day when every other (outdoors) game of rugby in Scotland has been cancelled.
It can't match the devotion to play – or stand exposed on the wing expected the catch the ball with frozen hands when it comes to you maybe once – in a windchill of minus five (according the forecast I read). All this, in addition, at the lowest tier of Scottish club game.
In this respect it almost didn't matter who won the BT Midlands Bowl Final at Forthill on Saturday. The triumph was shared in playing this game at all, a contest between the oldest rugby club in city, Panmure RFC, and the youngest, the Dundee University Medical Society RFC, on the ground they now share.
Why, the well-layered reporter needed to know, was this game being played at all? Wouldn't it have been simpler to wait a couple of weeks for the thaw?
Panmure's captain Mark Penny explained that, effectively, the SRU had given them no choice.
"We were told we had to play this week or next, or the final would be decided on a flip of a coin, and no-one wanted that, obviously," said the schoolteacher and tight-head prop.
"Next week is the Scotland game in Dublin, and while we were also offered the back pitches at Murrayfield neither team would have managed to get everyone available to travel for that.
"We also had a full lunch club today which is huge for the club financially. Although that would have taken place anyway, we wanted a game for them. So both teams and their supporters decided to clear the pitch and play if we could."
A day's hard labour on Friday seemed to do the job, only for a fresh snowfall overnight to require a second clearance with some heavy machinery employed. The fact the players took full part in the work- along with club officials and supporters, members of the Forfarshire Cricket Club and some volunteers from other clubs in the city – and then played the 80 minutes was downright heroic.
This far down in the league structure – Pannie are in Caledonia Division Two Midlands, the Medics one division below in the bottom rung – the expectations of your correspondent were somewhat low. But this was at times a skilful and always a totally committed contest with a decent crowd making use of the new vantage points of heaped snow to cheer them on.
There were plenty of standout players – for example the Medics' classy 10 Michael Finnerty, who sliced open the Pannie defence early in the second half with a brilliant solo try from halfway, or their No 8 Campbell Yates, who was a constant force with ball in hand.
Finnerty's score, with Panmure No 8 Dan Jones – scorer of their first half try and 33 others this season, apparently – in the sin bin, took the Medics 13-7 ahead and the elsuive stand-off cut through again moments later, only to be felled with a last-ditch tackle inside the 22 and then caught holding on by Pannie's other all-action back rower, open-side Andy Philip.
That was the turning point. With Jones restored and both he and Philip increasingly influential, Pannie's greater forward power started to work for them. Andrew Barclay, usually a wing but pretty good at scrum-half, battled over from a scrum five and Jones scored his second of the day via the same route.
Robbie Grieve's penalty with 10 minutes left took Panmure out to 24-13 and apparently set fare, but the Medics made a furious late rally, scrum-half Brian Doherty sniping over to take his side to within a converted try.
The final minutes saw a clearly exhausted Panmure camped on their own line defending desperately, but as the Medics tried to move it wide on last time, the ball was spilled by frozen hands and the trophy went into Penny's grip.
18 months ago Panmure – formed in 1880 and based at Forthill since 1888 – were struggling like many of the rugby clubs down in the grassroots, barely able to raise 15 bodies to put out a team.
Penny, a popular and pro-active captain, and an enthusiastic committee have turned that around. They've fulfilled all their fixtures this season and are comfortably in mid-table in the league.
They now have an away trip to Stranraer to play Wigtownshire, the prize for winning that National Bowl semi-final a trip to play on the big pitch at Murrayfield on Finals Day.
Which is fitting, because even this far down the structure, there's still that link between these enthusiasts and the boys in the national team.
In stoppages, with the younger members of the crowd amusing themselves doing snow angels on the cricket square, it seemed everyone was talking about Barclay, Finn, and Hoggy.
That win last week belongs to these people as much as anyone who was at Murrayfield or even played in the Calcutta Cup game. And our game's future is dependent on their clubs surviving and thriving, in all kind of weather conditions.