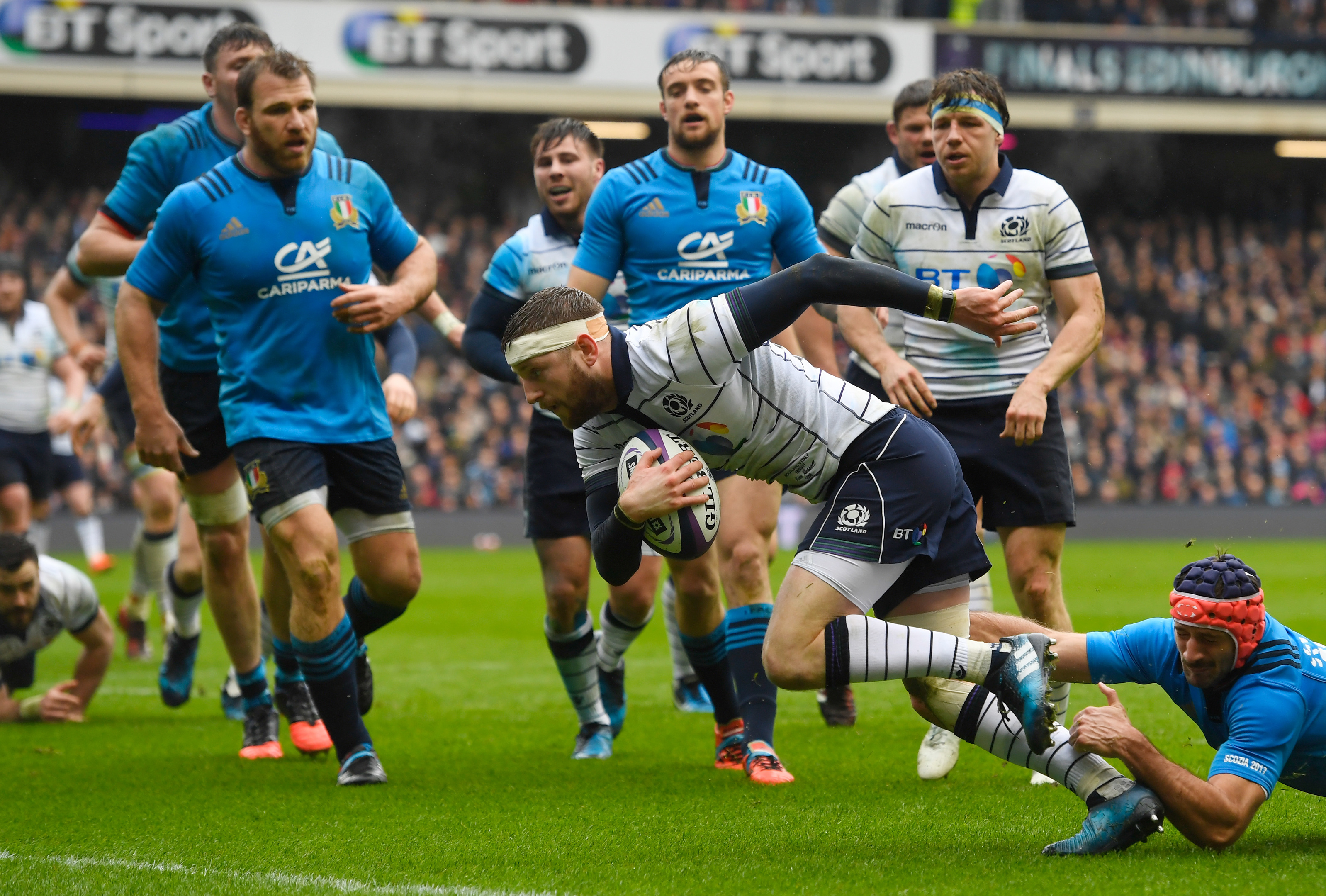 In Rome time moves slowly, and nothing much has altered here in 18 years as Scotland play their 10th Six Nations game in the eternal city.
The Scots are still easily visible on the streets of the eternal city, in T-shirts and jacketless while the locals are still wrapped up against the 16 degree chill, or confused trying to cross the street as Rome's infamously riotous traffic dodges around them.
Mercifully the Foro Italico around the Stadio Olimpico is pedestrianised, however, so the Scots flocking there and enjoying possibly the 6 Nations' friendliest atmosphere will have nothing but their team to concern them.
The thing that really has altered is Scotland's confidence in playing Italy in Rome. This fixture has often been a trial, often a wooden-spoon decider, and the Scots have often travelled with trepidation. Italy drag Scotland into their forward-orientated game. They're abrasive, and they knock the Scots off their stride.
In Gregor Townsend's own words, Italy "drew a red circle around March 17", targeting this game as the one they believe they will win.
Maybe Italy do think that – captain Sergio Parisse said they don't – but they've no real reason to anyway. Scotland have lost just one game in the last nine to Italy and that at Murrayfield in 2015 through a calamitous series of circumstances that will probably could never be repeated except in horror fiction.
They've won the last twice in Rome and the last three times on Italian soil. Duncan Weir's winning drop goal in 2014 was a bit of a heart-stopper, but the other two were fairly routine.
Scotland routed Italy in Gregor Townsend's first game in charge in Singapore last June, and indeed have AVERAGED 30 points against them in the last ten games, and five tries a game in the last four.
If someone had this kind of record against Scotland – England, say – we'd be driven to despair.
Have Italy really improved this season, or under Conor O'Shea? The Irishman is one of the good guys of world rugby, but there's every indication Italy have regressed in his charge.
This is largely because he's attempted to take them out from the forward-based, abrasive setpiece game that Jacques Brunel corralled them in for his term in charge. Part of Scotland's recent successes against Italy, it has to be said, come from the fact they were so downright predictable, nothing more than one long double-shove in the scrum and driving lineout maul.
So O'Shea has made them a little more open, and discovered a few young open field runners. Moving away from their staples has been a slow process, however, and exposed deficiencies in defence.
In addition, Italy's long-time talisman Parisse shows every sign that his long tenure carrying the team on his shoulders is finally taking its toll. At 35, his stats for this 6 Nations are way down on his usual figures.
The emergence of Alessandro Negri as a top class performer can cover this loss in time, and there's a school of thought that believes once Parisse departs Italy will finally become a team instead of the singular quest of one exceptional player. But that's not now.
"This is just one game so it's not about targeting Scotland," said Parisse, who could play in his 100th losing test, as Italy attempt to avoid sharing the record with France's team of the Edwardian era of losing 17 successive championship matches.
"We have one Six Nations game left at home and we're targeting that, not because it's Scotland.
"Everyone has seen how Scotland at playing in this moment. They have had a great Six Nations after beating France and England.
"They missed a lot of chances to beat an Ireland side that have won the championship.
"So for us, they are a no longer the Scotland team of five or six years ago who were the team to beat.
"Tomorrow is a big challenge for us and the most difficult game we've played at home this season."
The Scottish camp deflected the question all week but it's undeniable that this Six Nations campaign, for all that England and France were beaten, cannot be regarded as a success unless they win on Saturday.
Only matching Vern Cotter's final campaign can be acceptable and sustain the idea that the Scots are making steady progress. Defeat to an Italian side that has lost 16 on the bounce would be a huge let down.
That shouldn't happen. Even if the forecast rain means Italy go back to their staple strengths, Scotland are well able to deal with them. The scrum has been solid and is improved by WP Nel for this game, the maul defence has been excellent and is also improved by Tim Swinson.
And while Italy are developing weapons to attack through the backs, Scotland already have plenty, with a playmaker in Finn Russell who has tormented the Italians in the last three games.
Three championship wins for the second year in a row – something the Scots have only done twice before in 90 years – constitutes progress. The next step is removing the fear from playing away at the other five or the Six Nations.