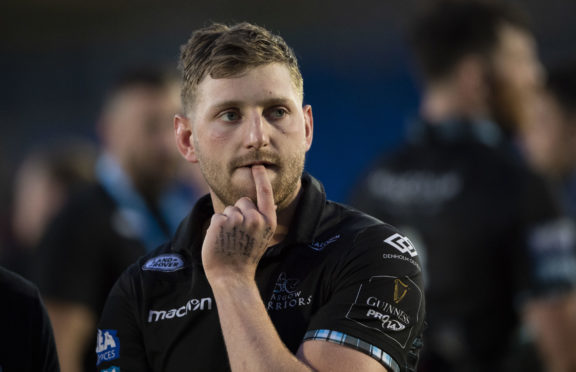 Finn Russell's exit from Scotstoun was supposed to be in glory, basking in the applause of the 10,000 fans at the Guinness PRO14 semi-final on Friday, many of them the new Warriors faithful he did a great deal to create.
Instead, hooked after 70 minutes of Glasgow's dispiriting 28-13 hammering to Scarlets which ended their season, the Scotstoun crowd seem to pause uncertainly as Russell left the field, suddenly realising this was the end.
The ovation was almost half-hearted, and embarrassed, far from what the fans wanted or – even if he'd had a poor game on Friday – the player deserved.
In six years with the club the stand-off rose from part-time stonemason and bit-part Academy player – almost an afterthought in the national player development plan – into Scotland's unquestioned stand-off.
The simple act of winning games has grown the Warriors fans from the 1500 that endured the days at Firhill to the week-upon-week sell-outs of 7000-plus at Scotstoun.
But it was also the style and elan with which the team played, alluring to new fans to the game, and a whole lot of that stemmed from Russell.
Finn was at the centre of it all, with the darts, the off-loads, the behind-the-backs, the dummies and show-and-gos and those delicious, looping miss-passes. For some of us who liked a rounded 10, he even showed some intelligence in the kicking game at times, and tackled well above his weight.
Thus he became Scotland's best all-round stand-off certainly since Craig Chalmers, possibly since John Rutherford. But since February it's become clear that he's at a major career crossroads.
Obviously the move to Racing 92, where he will inherit the European Champions' Cup runners-up 10 jersey almost straight away due to Dan Carter's departure and Patrick Lambie's injury, is a huge staging point.
There's been a definite sense he's been treading water since the Calcutta Cup game in February. Even looking back with calm analysis on that day – difficult even now – it was an actually a massive spike on Russell's form graph.
The suspicion that this underwhelming season – bar the Calcutta Cup, a dead rubber European game against Exeter and a handful of others – has been due to Finn's impending move is natural, but it's also uncertain.
Russell's early hook on Friday was just the latest of many. In two of Scotland's 6 Nations games he was pulled around the hour mark and it fell to Greig Laidlaw to pilot the team from 10 to crucial comeback victories over France and Italy.
Gregor Townsend, so long Russell's champion when Warriors coach, was actually quicker to remove him than new Warriors coach Dave Rennie, barring one half-time switch in a late league game.
Lack of ballast and physical impact upfront to compete with the Leinsters and even the Scarlets was probably the overriding issue of the Warriors lop-sided campaign – 10 straight wins to start, scoring like a basketball team, then hammered in Europe and eventually in the PRO14 play-offs – but the dynamic between the bluff New Zealander and his occasionally flaky playmaker was another.
It's been obvious for a while that Russell just wasn't Rennie's favoured type of "first-five". The reliable all-rounder such as Aaron Cruden, his on-field lieutenant for the Chiefs for so long, is what Rennie prefers, not "pulling rabbits out of backsides" in the New Zealander's vernacular.
In turn, Russell seemed almost confused by his orders at times. Friday night was a clear indication, as the plan was to put the ball behind the Scarlets' wings with grubbers but executed so poorly that it never looked like working.
It was only when Pete Horne began to test the line and bring in Sam Johnson that Glasgow got going, but too late in the game to make a blind bit of difference. Even then, Rennie pointed to the better penetration late on in his after-match comments and it was hard not to draw the obvious inference.
For Rennie, next season seems to be the chance to properly his mark not only upfront but also at 10.
There will be no big-time recruit there, and it seems Adam Hastings will be asked to make the step George Horne made so successfully this year. That's an exciting young half-back pairing full of potential, if Rennie can build a pack to get them enough go-forward ball.
For Russell, he has to find his mojo again in Paris, in a different environment, speaking a different language, and in a league where his preferred style of play has long been subjugated to a restricted, brutalist form of rugby.
It's going to be fascinating to see how he copes. But I can't be the only one a little concerned that having taken so long to find our stand-off, Scotland might be looking for another just a few months out from the World Cup.