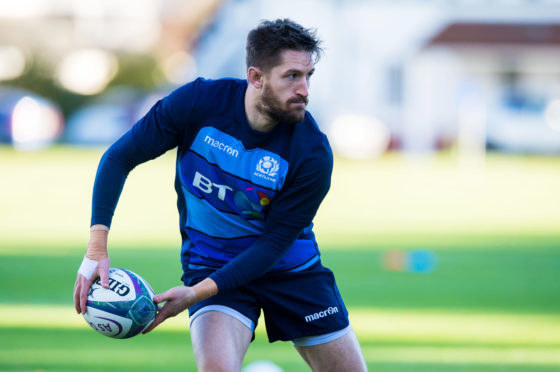 Having five quality international scrum-halves makes for constant pressure to keep improving – and that's a good thing, believes Henry Pyrgos.
The Edinburgh 9 is involved in maybe the most competitive position in the entire Scotland squad, with Greig Laidlaw, Ali Price, George Horne and Sam Hidalgo-Clyne his rivals. Only the Scarlets scrum-half, Pyrgos' predecessor at Edinburgh, is missing from this week's training camp at St Andrews.
Pyrgos had 27 caps and had captained Scotland before, but seemed to fall to third in the scrum-half pecking order at Glasgow and right to the back of the queue for Scotland last season.
He was a replacement in the three Autumn tests a year ago, but then dropped out of the starting squad when Laidlaw returned from injury and didn't even make the summer touring squad with Horne, Price and Hidalgo-Clyne going.
But Pyrgos' attributes of organisation, game-control and superior kicking have come to the fore since he moved along the M8 to Edinburgh, and he's now back in the reckoning.
"A lot of that is out of your control," he points out of that fallow spell last year. "Everyone wants to play so you are obviously challenging the coaches, asking them what you need to do to get more game time.
"You do get frustrated, but you work hard on training and focus on family life and other things – rugby can be very up and down so if it's your sole focus every day of your life it can be tough."
But competition is simply a reality he has to deal with and turn into a positive, he adds.
"I think it's been the same since I came through at Glasgow to be honest, there has been a lot of quality players in my position same and it would be weird if you didn't have any competition to play every week," he continues.
"Without it I don't think you would have that ambition to get better. I have been lucky because guys like Ali, George and Niko (Matawalu) every week at Glasgow, you learn a lot from the guys you are competing with which really adds to your game.
"What you have to do is get a lot of satisfaction just trying to get better as a player almost regardless of selection. It is what it is. You want to play but you understand that sometimes that isn't going to be the case."
However he has found a niche at Edinburgh, where he was instrumental in Edinburgh's rout of Toulon on Saturday and has become Richard Cockerill's on-field general.
"There's been a little bit of adjustment," he added. "I was fortunate to be at Glasgow and coached by Gregor (Townsend) before, and he is always trying to push us and develop us.
"There are new things every time in camp. In international rugby I suppose it's quicker, but you have to get up to speed and really execute because there are not many opportunities to score points."
Getting back to Cardiff for the opening game of the Autumn campaign and putting to right February's Six Nations hammering is a major target for the Scots.
"We didn't play well, Wales put us under a lot of pressure and we know we are going to improve," he adds. "But we have a lot of quality in the squad with just home-based players to cause them a lot of problems and get the win."