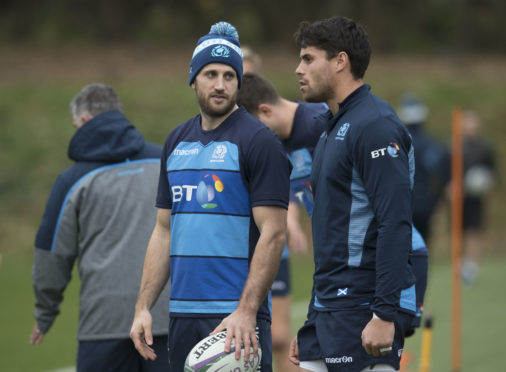 Sean Maitland has returned to a younger Scotland squad but he's not prepared to give up the shirt just yet.
Now 30, the Saracens wing was rested for the summer tour after his most successful international season so far, scoring four tries in five starts including one as an emergency full-back when Stuart Hogg went down in the pre-match warm-up.
But Gregor Townsend wanted to blood younger prospects in the summer tour and given Maitland a break, not that it came with the approval of the wing.
"It wasn't my decision," he said. "I really wanted to play. I got the phone call from Gregor to say they wanted to blood some new players and I was  'mate I want to play as much as I can, get as many caps as I can'.
"I am 30 years old now, you never know in the sport we are in. But when I did come to terms with the fact I was not going, it was a proper summer, my first summer off in a long time.
"I had five weeks when I did what I wanted, put on a bit of weight and then, on the flip side, had a full preseason. I had not had a full preseason in a while so there were a lot of positives in that."
Back in the squad, Maitland noted the fresh faces like Blair Kinghorn and Darcy Graham and he thinks it's a good mix of youth and experience.
"Hopefully we can get John (Barclay) back and get the average age up a little bit again," he joked. "But we've still got a few of us…let's call them experienced players.
"I'm still feeling good, still running fast, and these kids like Blair and Darcy are running rings around me, but it's good. Tommy (Seymour) and I are still around and we feel good and fresh."
It has concentrated the mind of the wing, however, that he needs to look after himself better than he did in his flush of youth.
"When you come through the whole cycle of a World Cup, it's the pinnacle of our sport and for me I'm not looking too far past that," he said.
"We play far too much rugby for sure in the Premiership although they are coming up with new ways of combating that. My club look after me so that, for example, in the Six Nations in those weeks off they are pretty good and give me that weekend off. Still we play too much rugby.
"I am 30 now and probably did not really understand the word 'recovery' until the last few years. It all comes under the heading of preparation.
"I find it takes me a good few days to recover – playing on the 4G pitches is a bit tougher on the body.  Now I feel good, I have had two weekends off, been training but feel fresh and ready to go."
Being forced to sit last week because of World Rugby regulations was "a bit frustrating" but it's given Maitland a fortnight to properly prepare for the rest of the Autumn campaign.
"Those first few days at St Andrews there was a lot of information, new coaches, new players, some new stuff that the coaches wanted to bring in on how we wanted to play," he said.
"Those first two weeks have been flat out in terms of information, this week it is good for me to be involved, hopefully."
As for Saturday's opponents Fiji, he played a lot against Islanders growing up in New Zealand, and respects their record.
"They are a quality team if you look at all their results, their last 10 games," he pointed out. "Their last Tier One nation game was against Ireland and they lost by just six points.
"We lost to them a couple of years ago, so they are a quality side especially in the backs where they have a lot of X-factor players.
"I've played against their guys a few times and they are dangerous players one-on-one in space. You don't want to give them too much.
"Tuisova is powerful, short and stocky. When you look at his highlights you don't know if he's going to step you or bump you, so I'll probably just take second to last and leave Hoggy to take the lats man – or whoever is playing at full-back!"