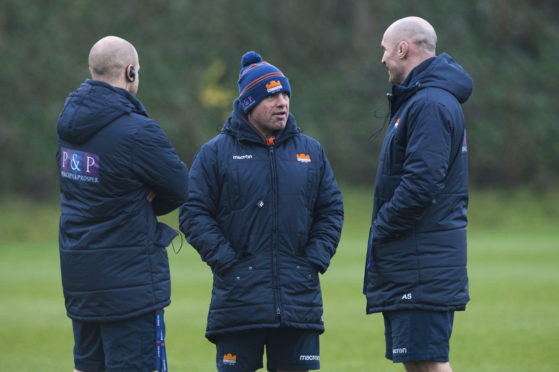 Richard Cockerill jokes he's been banned too often by the RFU to be employed by them as England coach, but he's dismissive anyway of being on a shortlist drawn up to eventually replace Eddie Jones.
The Edinburgh head coach's focus is wholly on Edinburgh, and RFU chief executive Nigel Melville's mentioning of his name when discussing future England coaches seems to be a distraction he'd rather not have.
"They must have a really short list of candidates," mused Cockerill. "It is a surprise to me; Eddie is contracted to 2021 as I am here. I am happy to be doing what I am doing here.
"I would like to get involved in international rugby but it certainly won't be until my time here is up. It is always nice to be mentioned in those circles but I have been mentioned before and I am still here.
"There is no job to be taken. I am not sure the RFU would want me to do it anyway. I have been banned enough by them!"
Cockerill is "an Englishman and a very proud one" but nationality doesn't come in to it when he coaches, he stressed.
"I've coached in three different competitions (Premiership, Top 14 and now PRO14) so that's experience, but the reality is that it is irrelevant if it is an English, French, or Scottish team; I am here to coach and get the best out of the guys.
"My relationship isn't with a country, it is with a group of players that I am coaching and the environment we are working in.
"My job is that of a pro coach and I will do whatever is best for Edinburgh who I coach at this point. I have an emotional attachment to this club because we have put a lot of effort and time to try and get it as good as it can be.
"Part of it is obviously to pay the bills but the real driver for me is to do a really good job because I want to be a good pro and be treated with respect as a coach."
The primary focus is on Newcastle at the weekend, a match that if won would put Edinburgh in the driving seat to win the pool and make the quarter-finals in their return to the competition after several years.
"We've got a great opportunity to go and win at the weekend and put ourselves right in the box seat to qualify and that's what we'll try and do," continued Cockerill. "But even if we don't win we still have another two opportunities to get out of this group.
"That's the thing about the pool stage and actually understanding how that works. Even at the weekend when we got the fourth try it was about let's not give them any extra (losing bonus) point which could give them a fillip.
"Even if we just get a point out of this game, it's another point closer to qualifying. But we'd really like to create games for us that are big games that we have to win.
"Newcastle on Sunday is not a must-win as there will be other opportunities. But we'd really like get to (the final group game) Montpellier and have a game to qualify or a game to finish top.
"We need to play in those sorts of games, this is a learning curve for us. If that comes quicker than we expected then I'll take it."
Newcastle have added former Scotland and Edinburgh back rower John Hardie to their squad on registration  yesterday as well as Jack Payne, the academy tighthead prop they brought to Murrayfield after injuries to three regulars but were refused permission to register at the eleventh hour.