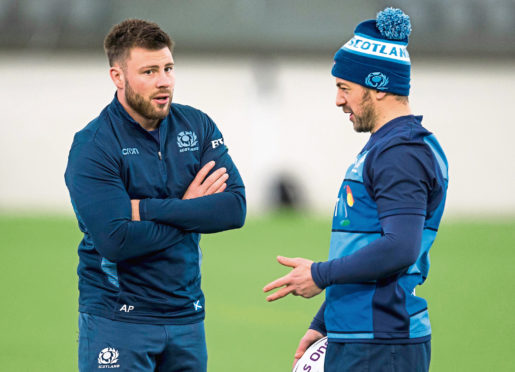 So, you're expecting the annual "dousing the optimism for the 6 Nations" column due around this time? Maybe next week.
As Scotland gathered for the first time this year at their now established base at Oriam west of Edinburgh, and we park the euphoria for having two European quarter-finalists in one season for the first time ever for seven weeks, it's time for a wee stock take with the championship only a week away.
Gregor Townsend enters this year's campaign as the most successful Scottish national coach in the professional era. He could lose three games this spring and he'd still have that honour, so he's got plenty collateral in the bank to play with.
Yet just two from five would be a disappointment to many – not a disaster but hardly the progress we seek. Comparing Townsend to coaches past on record alone is a little flawed anyway; he has better players at his disposal than any coach since Ian McGeechan inherited the 1999 European champion side from Jim Telfer.
Three from five and being at least competitive or better against the currently rampant Irish and against England at Twickenham would probably be acceptable. Anyway such is the injury list we can only consider who'll be playing in the first two games, so here's one man's opinion.
BACK THREE: Stuart Hogg, Tommy Seymour, Sean Maitland. Replacement: Blair Kinghorn.
This isn't going to please the Darcy Graham Glee Club, but there is no reason to mess with a proven and tested unit, who both create and score tries at a rate we've not seen for 20 years.
Maitland has had a prolific 18 months, Seymour is the best option at both defending and attacking the box kick (an essential with Ireland due). Stuart Hogg is arguably the best talent we've ever had, and rounding into some form.
Kinghorn can slot in anywhere. Darcy is close, but needs a little work still on defence in particular.
MIDFIELD: Peter Horne, Huw Jones.
A nice wee break with a minor knee injury was maybe perfectly timed for Horne, who is a key man organisationally for Scotland, and a necessary minder in the ear of Finn Russell.
Despite not getting much of a run at Glasgow, Huw Jones is a Rolls Royce of a centre, and that Wales defensive performance was pretty much a one-off.
Sam Johnson might make things interesting here. Nick Grigg is a touch below international standard, I think.
HALF-BACKS: Finn Russell, Greig Laidlaw. Replacements: Adam Hastings, Ali Price.
Price has recovered the form he had just over a year ago, before the Cardiff nightmare, and is the preferred cover – although George Horne is not far away – for Laidlaw.
There are still a few voices who question Greig's delivery, but superior leadership, goalkicking and tactical acumen make him indispensable.
With Finn, we're on this mystery tour like it or not, consistent or not (likely not), and Hastings is being groomed as the rival/alternative.
BACK-ROW: Jamie Ritchie, Sam Skinner, Ryan Wilson. Replacement: John Hardie.
The place where the injury problem has been most acute. Hamish Watson's absence is unfortunate, but it just means Jamie Ritchie should start at 7, and that frees Sam Skinner to play 6, where he was excellent for Exeter in Munster.
Put Ryan Wilson at 8 – although he doesn't have the attacking dynamism you really need for the position – and you have three accomplished lineout options in addition to whoever plays in the second row.
Hardie can come on to bash people and cause chaos as the game breaks up. This unit will, however, look totally different at the World Cup.
SECOND ROW: Ben Toolis and Grant Gilchrist. Replacement: Jonny Gray.
There's no reason why the very effective and complimentary Edinburgh pairing should be split, at least for the Italy game, and Jonny's shoulder issue this season underlines that choice.
His tireless industry might be preferable for the Ireland game, however.
FRONT ROW: Allan Dell, Stuart McInally, WP Nel. Replacements: Alex Allan, Dave Cherry, Simon Berghan.
Nel's been the cornerstone of Edinburgh's successes this year and he's playing even better than he did prior to the neck injury in 2017. Zander Fagerson will return soon, but likely as replacement.
Stuart McInally's health will be a major issue for the first fortnight. Cherry is the best of the three uncapped hookers right now; Fraser Brown and George Turner may – please – be back for Paris.
Loose head is like No 8, a problem position. Dell is the frontrunner but is low on mileage this season, Alex Allan and Jamie Bhatti have a handful of starts. Allan's maybe a little more dynamic for the final 20 minutes.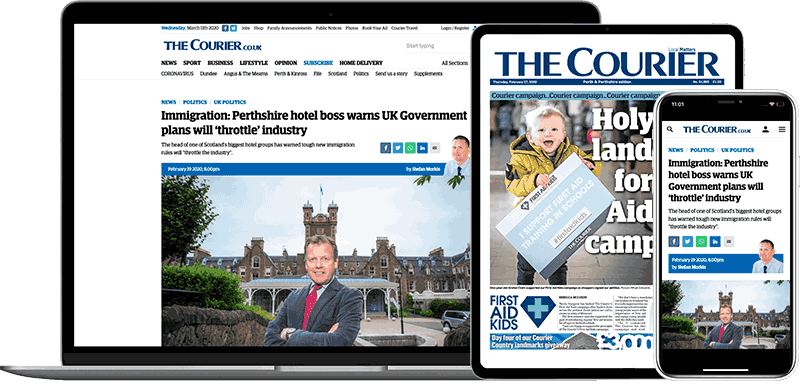 Help support quality local journalism … become a digital subscriber to The Courier
For as little as £5.99 a month you can access all of our content, including Premium articles.
Subscribe