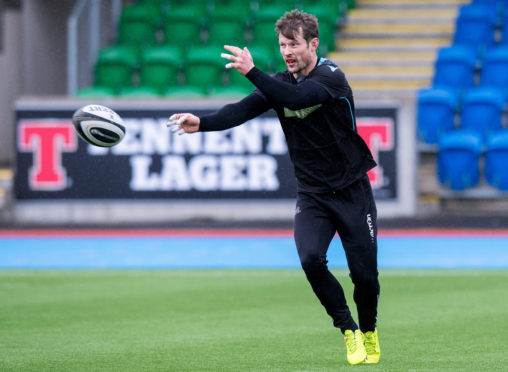 Replacing Finn Russell at 10 against France is nothing new for Peter Horne, and he'll be ready to step in a late notice again if required.
The Cupar man stepped in after just five minutes of the game against the French at Murrayfield in 2016 after an injury to Russell with his team 5-0 down, and piloted them to the 29-18 victory, the Scots' first win over the French in a decade at the time.
Both he and Adam Hastings are primed and ready to step in this weekend in Paris should Russell develop any complications to the head knock he suffered on Sunday, and the versatile Horne is quite happy to do whatever he's told by Gregor Townsend.
"I would look forward to it, it would be a good, exciting challenge," said Horne. "I had 75 minutes against France a couple of years ago, and I played alright at 10 on Saturday (for Glasgow) so I am in a good spot. If I get handed the keys I will give it my best go.
"Everybody around me will help me get ready, if it is Adam I will help him and we will see how it goes."
With Russell unlikely to be involved much this week due to recovery protocols from concussion, the pair will be getting in more work at 10, he said.
"In one way we can look on it as a positive," continued Horne. "Adam can get more reps in this week to make sure we are both ready, and if Finn has to pull out at the end of the week then we are in a good spot to go.
"Gregor pulled us both aside and was honest and just said we had not made a decision yet and for us both to get as much reps as we can and we will make a call later in the week.
"I will do what I'm told. If I am on the bench I will come on and do my job the best I can."
Public perception has been "no, not another one" as Scotland's injury list has grown ever longer this spring but for those left standing it's simply a matter of "next man up", he said.
"We've all been in the game long enough now that you know it's part and parcel of rugby, as much as you'll be disappointed to see someone get injured, it creates an opportunity for someone else to fill the void.
"If it was all doom and gloom, what does that say to everyone around you? The next man up comes in, he's expected to do a job.
"How many times have we seen it, where somebody is injured and you're thinking the worst but a few minutes later the new guy has won the game?
"That's how the next crop come through. We're gutted to be without a couple of world-class players, but the rest of us are determined to get it right."
France, although themselves deep in crisis after losing their first two games, have to be respected and feared on their home turf, added Horne.
"We've had a bit of success against them at home recently – but they're definitely a different beast over there," he pointed out. "Look at that first half against Wales, they showed what they were capable of.
"It's never nice playing a team after they've just been hosed. They'll be looking for a reaction, everyone in the squad, every coach.
"There will be a bit of pressure on them from the fans and I'm sure they'll come out all guns blazing."
The key to the game may be staying in the fight until the final quarter when Scotland's superior fitness can be effective, he thinks.
"They are great off counter-attack and great off turnover, but we're a lot fitter than them and, if we can keep the speed up and keep the tempo of the game up, we can hopefully try to run them off their feet.
"They've got some absolute monsters in that forward pack, they've got some big backs as well.
"But we'll have to look after the ball. We can't cough it up and give them opportunities."