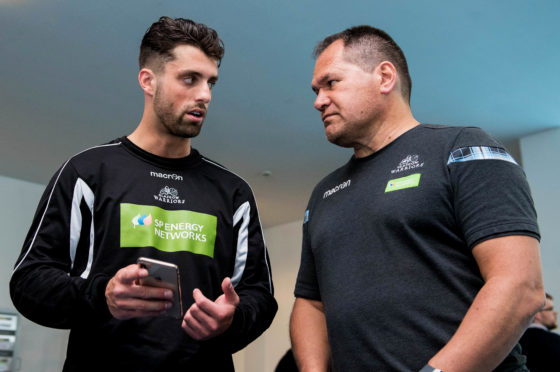 On the eighth day, the Glasgow Warriors rested – and that could be crucial in the Guinness PRO14 final, believes head coach Dave Rennie.
The extra day of recovery from the semi-finals is one advantage the Warriors have over Leinster in Saturday's final at Celtic Park, and the other is the obvious venue, despite what Rennie's counterpart Leo Cullen might say.
The former Ireland international lock said – jokingly – that Celtic fans might support Leinster in the final as he understood most of the Warriors' players supported Rangers. The truth is that the squad have a wide selection of supporters of different football clubs, and that the Warriors already get support themselves from across the soccer spectrum.
"I like Leo, he's a good man," said Rennie. "Ultimately our thinking is that we've got lots of players who support different football sides, based on where they originate from.
"We have a heap of football fans who come and watch us play because they enjoy the entertainment and that's what we're looking for. Obviously, we represent Glasgow and we hope that regardless of what support you're involved in you'll want to be there for what should be a fantastic occasion."
As for that extra day of rest, it's set up the Warriors well, he believes, because the team will need to be far better than they were in Friday's semi-final rout of Ulster.
"We get eight days and that eighth day is crucial, to be honest," he said. "The boys have shown up today and with the extra day off they're in really good nick.
"We're not going to over-train, so Monday's normally about a review, recovery and clarity so we've got through all that. Tomorrow we'll bring intensity and we've got a couple of guys we have to manage who've got bumps and bruises, but it won't stop them from playing, so we're in a good spot.
"'We can still be a lot better than we were against Ulster. The scoreline obviously looked good, but Ulster are a lot better than that. They were probably a couple of cogs off where they would normally be – not too dissimilar to what happened with us against Saracens in Europe a few weeks ago.
"If you're a couple of cogs off, then you can get belted. That's the way the game is.
"We'll be better for the hit-out because we hadn't played in three weeks. I still think we can be better defensively, although we did actually defend well for big chunks."
Leinster offer a formidable challenge, and especially as this is the last trophy they are holding on to, he added.
"They're a good side who are generally tough to beat. Saracens threw everything at them for a long period in the Heineken final and they stood pretty strong for a big chunk of that game, so we know what's coming.
"They're notorious for hanging onto the ball multi-phase, so you can't turn over the pill against them or kick poorly and they'll defend well, as we saw against Munster on Saturday.
"I'm sure they'll be highly motivated. They're very aspirational and they've missed out on one trophy, so I'm sure they'll be determined to grab the other one."
Selection for the final had already been discussed among Rennie and his coaching team, and there is a great degree of unanimity about who'll play.
"What's got us here is the brand of footie we play," he said. "I was really pleased with our attitude against Ulster because we really went out and expressed ourselves. We want to do the same in the final.
"We have really good discussions around selection but I can't even think of a time where I've had to have the casting vote, we're generally united.
"As coaches we met yesterday morning for a few hours, talked about a lot of key things and selection was one of them. There's a lot of guys put their hands up who played and it'll be difficult not to include them again, but we've got another group who trained really well and played a big part in our season, so we've got some good problems."
As for Celtic Park, Rennie's only ever seen it empty but has been told what the atmosphere can be like.
"A lot of our boys have obviously watched football there, so all the talk is about what a great atmosphere it is with the big stands so close to the park," he said. "They've already sold over 35,000 tickets, so hopefully we can get plenty of locals to fill a few more seats and it will be really special.
"We're going to have a run there late in the week, just to get rid of the wow factor and so the boys get a look at the ground and the changing rooms and so on. It's something we talked about right at the start of the year when we knew that if we got things right it was our chance to play a final there, so we're really excited by it."
Nigel Owens of Wales, unsurprisingly, is the PRO14's choice to referee the final with the two semi-final refs, Ireland's John Lacey and Scotland's Mike Adamson, as his assistants.
Leinster and Ireland lock Devin Toner is out of the final after suffering an knee injury in Saturday's semi=final victory over Munster.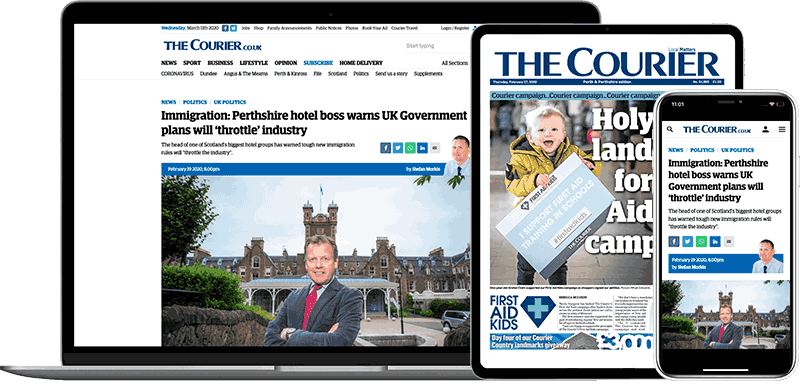 Help support quality local journalism … become a digital subscriber to The Courier
For as little as £5.99 a month you can access all of our content, including Premium articles.
Subscribe