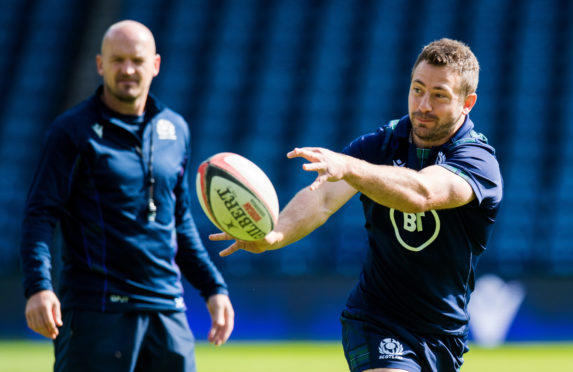 Greig Laidlaw has become the safety valve for when things go wrong for Scotland, and he's called on to steady the ship again in the second Rugby World Cup preparation game at BT Murrayfield.
Everything seems bouyant: yet another sell-out crowd at EH12, the 14th in a row, a game against a French team that hasn't won in Edinburgh for five years, and Laidlaw back as captain and tactical fulcrum as he aims to skipper his country to a World Cup for the second successive time.
But the ship is rocking after last week's unexpected and sobering 32-3 hammering in Nice, and although the teams for the first two games were pretty much scripted by the management team to give everyone left in the 40-man squad a show, there's still a feeling that Laidlaw is a necessary calming influence, a reassuring voice and presence to those on the pitch and the stands not to panic.
It's a role the 34-year-old has perfected in recent times. His finest hours in a Scotland shirt have been piloting the team out of troubled waters – for example in the last World Cup against Samoa, when a quarter-final place seemed to be lost, or in the last win in Japan three summers ago, when he kicked Scotland back from what seemed a certain defeat.
Recently Scotland have been turning to him in games – against Ireland in 2017, against France and Italy in 2018, even against England in March – to give the team direction when they were wobbling. It seems the remit is the same today.
"I've always been my own man and my own player," he said when asked if he was being typecast as the coaching team's security blanket. "I just need to keep doing that.
"I feel that if I perform to the best of my ability that I'll be in the team, but then every player believes that. You've got to have that self-confidence.
"I know what I give to the team – direction, tactics, playing in the right place at the right time. So I'll just keep doing what I'm doing and if that's enough for me to start then so be it."
That direction – somewhat missing last week despite three Scotland captains on the pitch – is what Laidlaw feels he can bring to the team, although he needs the buy-in of everyone with him.
"The way I try to captain the team I will lean a lot on other players as well and bring the best out," he said. "It can't be just on one person and it won't be tomorrow.
"Finn (Russell) has been really good this week in terms of how he will lead the attack, and we will have a defence leader. We need to get a feel for that as a group, what is going well, what is not going well and do we need to change.
"It is subtle changes you need to make within a Test match that will win or lose.  That comes back to the playing group in my opinion. We need to make sure we know what is happening and if we need to change.
"Do we need to be more direct or is what we are doing working? Do we need to kick more? You are never going to get it all your own way in a test match and you have to be flexible."
And although these are still warm-ups, last week's result means that the scoreline this weekend is more important than the performance, he added.
"I'd say yes," he said. "We've only got two more games going into a World Cup, and World Cups are about winning games – you've only got four pool games and you pretty much need to win all of them to get through.
"So we need to win against France, that's important. Of course the performance helps, but at this level it's about winning games."
Assistant coach Mike Blair believes there's "a couple of spots" left for the final 31 and while Scotland should travel with three scrum-halves, it's going to be "a really difficult position to nail down".
"We've got three fantastic players there," said Blia,r Scotland's most-capped No 9. "This is Greig's opportunity to show what he can do again.
"He's had some feedback on certain parts of his game we want to improve, but we're very aware of what he does really well. He's a real competitor and the leadership side of things and control he brings is a given.
"He's got a very astute tactical brain. There are parts of his game we want to speed up as well, but there's that control element when things aren't going so well, and the players look to him then for his feedback and leadership."
There has been more of an edge to the squad in training this week, and this is a much more experienced team than last week's, with Laidlaw and Russell, Ryan Wilson and WP Nel, Pete Horne in midfield, and the old firm of Hogg, Maitland and Seymour – 150 caps and one short of 50 tries for Scotland between the trio.
France have been forced into a late change to their team, with oft-injured centre Wesley Fofana ruled out again and replaced by Toulouse's Sofiane Guitoune.
Scotland: S Hogg; T Seymour, C Harris, P Horne, S Maitland; F Russell, G Laidlaw (capt); G Reid, G Turner, WP Nel; S Cummings, S Skinner; R Wilson, H Watson, B Thomson.
Replacements: G Skinner, A Dell, S Berghan, G Gilchrist, J Barclay, G Horne, R Hutchinson, B Kinghorn.
France: Ramos; Penaud, Fickou, Guitoune, Raka; Lopez, Dupont; Poirot, Guirado (capt), Slimani; Lambey, Vahaamahina; Iturria, Ollivon, Alldritt.
Replacements: Chat, Baille, Setiano, Taofifenua, Camara, Serin, Ntamack, Medard.