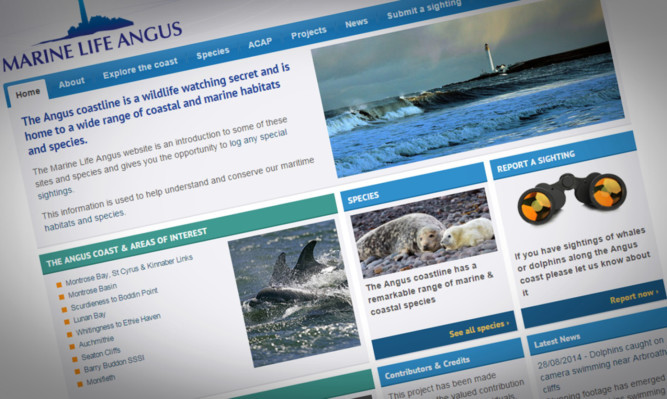 Marine enthusiasts are counting on Angus residents to help record the apparent increase of cetacean activity in local coastal waters.
As the area gains a reputation for dolphin sightings, hopes are high it might also see a repeat of rare visitors such as the humpback whale recently spotted in Montrose Bay.
The plea for sightings of dolphins, porpoises and other species to be reported has come from Kelly Ann Dempsey, leader of the coastal and marine working group of the Tayside Biodiversity Partnership.
Through the www.marinelifeangus.co.uk website hosting the Angus Cetacean Awareness Project (ACAP), residents are being encouraged to record sightings and can access a wealth of information on local hotspots.
Kelly Ann said the area around Montrose is proving to be a particularly good place to witness marine activity at relatively close quarters.
She said: "Since the project began there have been regular sightings at more than seven locations on the Angus coast of species including bottlenose dolphins, minke whale, porpoise and common dolphin, and even humpbacks at Montrose Bay."
A particular hotspot is Scurdie Ness lighthouse at Ferryden. The number of sightings reported rose in 2014 and more than 100 bottlenose dolphins were recorded.
Kelly Ann added: "At university I did a dissertation on Montrose Bay and that gave me an interest to collect more data for the Angus coast.
"A lot of these species are around our areas and feeding in the river channels and we know people are seeing them. We have set up the website to provide information but also to try to make it easier for people to record sightings, and that all feeds in to building up a fuller picture.
"We are always looking for more sightings and would like to encourage those regularly out on the coast or on inshore waters to regularly report what they see, and encourage others to do so too."
The group also aims to publicise other schemes recording local butterflies, maritime plants and marine non-native species.
Sightings are reported to the Biodiversity Action Plan reporting system (BARS) and Tayside Local Biodiversity Action Plan, and there is also a Twitter account @marinelifeangus.
Kelly Ann said part of the increase in sightings is being attributed to summer visitors from the established Moray Firth population as the creatures travel down the east coast looking for food in the warmer months.