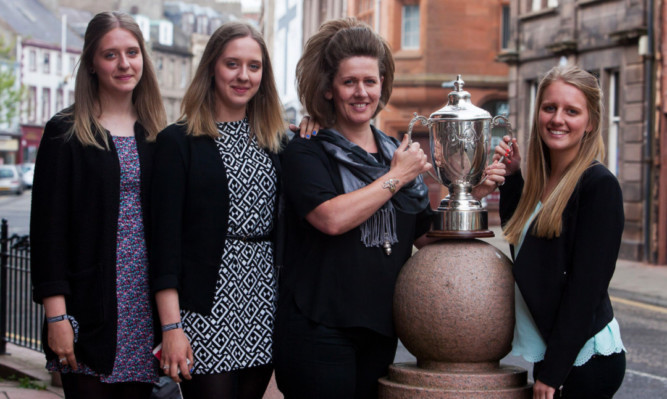 A Forfar mum has lifted a top college award after overcoming a personal health challenge and an equine hurdle to her animal care course.
Diagnosed with multiple sclerosis six years ago, the effects of the condition forced former hairdresser Denise Webster into a new career direction.
The mother-of-three opted to return to Dundee & Angus College to pursue an HND in animal care and, after picking up the trophy for the highest mark of her year at the establishment's Webster Theatre prize-giving ceremony in Arbroath, Denise revealed she had also overcome a fear of horses on the road to success.
"It's not that I was terrified of them or anything, but I couldn't hide how uncomfortable I was around horses," she said.
"I didn't understand their expressions or the noises they made, with a dog at least you know it is unhappy when it growls or bares its teeth, but I had no idea with horses."
Denise got to grips with the subject to achieve the highest mark in a graded unit about a horse sanctuary.
"I had to learn about horses inside and out for my report to make sense, as I wasn't leaving college without an A grade," added Denise.
She returned to college four years ago after the MS diagnosis.
"I was a hairdresser for 23 years and though I resolved to carry on as normal, I quickly discovered that my 'normal' was no fun at all.
"Working in a salon even two days a week left me wracked with pain so I decided to do something else.
"I'd always wanted to work with animals and decided this was the spur I needed."
Denise is enjoying college life and finding her health far improved, working on a free-range egg farm.
"I feel lucky to have got a job, I had a placement on the egg farm as part of my course and now I am working there part-time and loving it," she said.
"Coming to college really worked out for me, it has changed my life, and as a bonus I'm nearly over my fear of horses!"