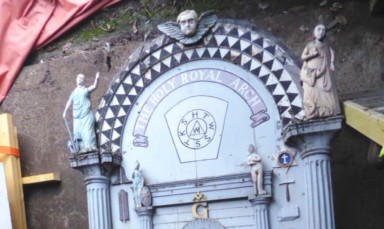 The Montrose public are being encouraged to play their part in the protection of a local artefact, possibly unique in the UK.
For more than a century and a half, the Royal Arch tableau has been a feature on the high street of the Angus burgh.
The large wooden panel is a listed monument by Historic Environment Scotland, however the Masonic symbol became separated from the movement after the local lodge moved to Upper Hall Street.
"No-one seems to claim ownership, which is a real problem as its condition is causing concern," said Dr Andrew Orr of the Montrose Society.
"The tableau is now in the safe custody of the society, which is examining ways of saving an important piece of High Street heritage, also one of national significance."
The latest meeting of the society this week will be a presentation followed by a public discussion about the tableau.
Locals who have knowledge of the tableau, its Masonic connections, or who want to express an opinion about its fate are invited to join society members at the George Hotel Legends Suite on Thursday at 7.30pm.
Entrance to the event is free.