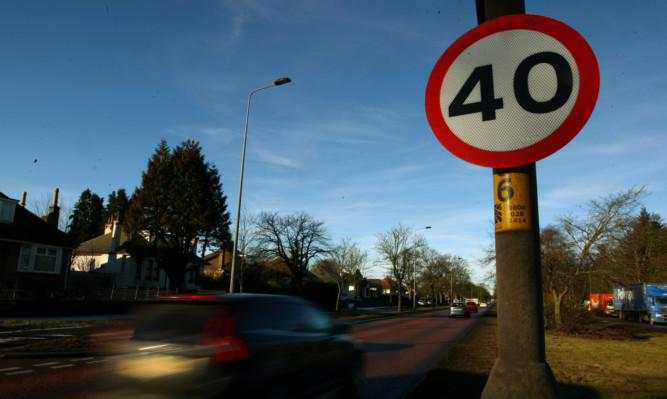 A massive spike in speeding detections has led to more than 1,300 drivers being fined since a controversial new 40mph zone was imposed on a stretch of the Kingsway in Dundee.
At the start of February 2015, the legal speed limit between the Clepington Road junction and the Forfar Road junction was reduced from 50mph to 40mph.
The move sparked debate, with some motorists describing the decision as "a joke".
The Courier has now learned that the level of fines dished out to speeding motorists increased more than 10-fold since the reduced limit was imposed and a mobile camera unit began operation.
Figures obtained in a Freedom of Information request show that just 114 speeding offences were recorded on the stretch during the whole of 2014. In 2015 that figure jumped to a staggering 1,386.
A total of 32 offences were detected in January 2015, one month before the new limit came into effect.
The figures have provoked a furious response from national motoring groups who claim the statistics are proof speed cameras are used for "profiteering" as opposed to road safety.
Claire Armstrong from pressure group Safe Speed said: "They are a profit-making organisation, there should be no profit in road safety.
"They are deliberately reducing road speeds because they've decided they want to nick more motorists.
"The speed camera industry is digging its claws in and this applies to roads from Scotland to Cornwall.
"Proper road safety is built from sound science, engineering and proper education."
Hugh Bladon from the Alliance of British Drivers insists it is time for Police Scotland to "go back to the drawing board".
He said: "You have a road that has been reduced to 40 miles per hour and it is nonsensical.The authorities have to go back to the drawing board and reconsider.
"It is utterly absurd, fining people for driving normally."
The information also revealed that from the start of 2013 to February 8 2015 the day before the new limit was imposed 14 people driving between both junctions were injured in collisions.
A total of four people were injured during the remainder of last year, after the 40mph zone came into play.
Andy Jones, east safety camera unit manager for Police Scotland, believes this is proof that the mobile camera unit and the updated speed limit are working.
He said: "Since the speed limit was lowered to 40mph, mobile safety cameras have been deployed on a number of occasions, with the primary goal of reducing the number of individuals killed or injured in road traffic collisions on that stretch of road, as set out in the Scottish 2020 targets.
"Clearly, a number of individuals have been detected travelling at speeds in excess of the new limit but it is hoped that by having highly-visible camera enforcement vehicles on-site, Police Scotland will reiterate the need to slow down at that location and thereafter reduce both detections and casualties."