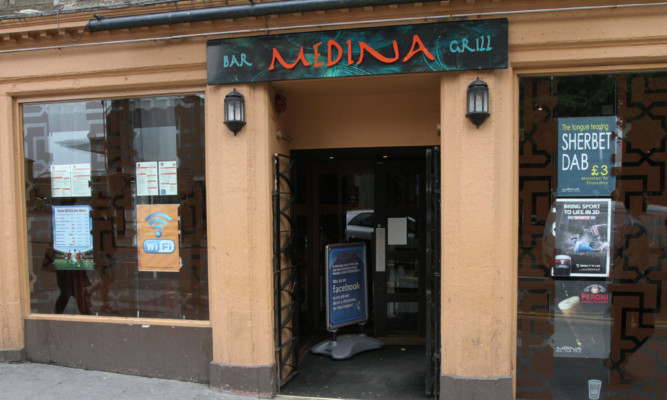 Diners at a Dundee restaurant shrieked in terror after what is believed to be a rat was spotted running across the floor.
The incident happened in Medina Bar and Grill on Nethergate around 5.30pm.
Staff attempted to catch the animal but were unable to do so.
It is believed the rat got into the bar when staff opened a fire door onto the alley behind the premises to try let in some cool air during Wednesday'shot weather.
One customer who witnessed the incident said rather than close the restaurant, staff simply placed chairs upside down on the table where the rat had been seen and moved customers sitting there to the front of the bar.
She said: "A group of us were in Medina at about 5.30 last night. We were enjoying a drink and looking at menus when we heard a commotion and shrieks from the table behind us.
"I turned round to see everyone up from their tables and the waitress running around with a bucket.
Something had run out from underneath a table at the far side of the pub, away from the windows.
"At first I thought it was a mouse but a woman who had seen it said it was larger than a mouse and thought it was a rat."
She added: "A man from my table went across to try to help the young waitress but they were unable to catch it.
"Some of the folk in the pub, who are obviously much braver than I am, stayed on and were ordering their meal as we decided to leave.
"There were many tables reserved and crowds coming in as we were leaving. I wondered how they would feel if they knew a rat was running around.
"We liked Medina as it was a handy place to eat before going to the Rep, but none of us will be going back any time soon."
Medina Bar and Grill passed its most recent food hygiene inspection at the end of April.
Manager Mike Mackay said the rat got into the bar when staff opened a back door to let out some of the heat.
"It was obviously very warm outside so the staff opened the fire door and the rat came in that way," he said.
"We know there's a problem with rats in the area because we actually had our pest control guy in on Wednesday morning and he said there was no issue with the restaurantbut that there were rats in the alley outside.
"Only two customers left the restaurant. There must have been 40 people in there and most of them thought it was humorous."
Mr Mackay added pest control officers have since returned to the restaurant and are satisfied the incident was a one-off.
A spokesman for Dundee City Council said: "We have been contacted by the restaurant and we are now offering advice."