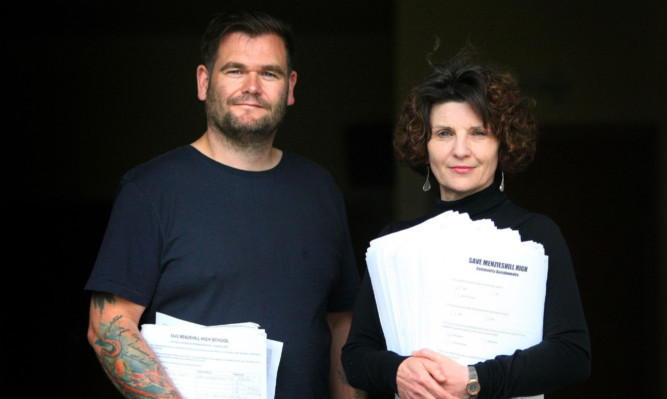 Parents and campaigners have said they must continue to fight against the closure of Menzieshill High School or see their community wither and die.
The Lochee Ward that feeds into the school is one of the poorest in the UK and it is feared that families and businesses will suffer in the wake of Monday night's decision.
In the days to come, a 2,500-name petition will be delivered to the Scottish Parliament, in the hope ministers will intervene and prevent its closure.
If that fails, opponents of the decision which passed by a vote of 18 to 14, with two abstentions could yet seek to begin legal action.
The Rev Bob Mallinson who spoke as parish minister but has also been a key figure in the Save Menzieshill High Campaign said the impact of the school's closure could be dire.
He vowed to fight on, bolstered by the confidence given to campaigners by the knowledge the SNP administration had been forced to fight for their win.
"After months of hard work we have lost by just four votes and that tells you what a contentious issue this has been," he said.
"My worst nightmare was a landslide for the administration, as this would have made it difficult to keep going, but this gives us confidence.
"We have always been preparing for an appeal to the Scottish Government and that is the main reason we have gathered more than 2,500 names on a petition.
"We have run an amazing campaign but it doesn't stop with Monday's vote. We need to regroup and continue the fight."
Mr Mallinson said he believes councillors and officials had failed to consider the wider impact of their decision and that closing the school would have "a very negative impact on a community that is already struggling economically".
"The ripple impact is something that none of us can yet begin to understand," he said. "What little shops there are in Menzieshill are already struggling and I am not sure that they will all survive the loss of around 470 pupils and the staff.
"The closure will also have a negative economic and social impact on families that are already struggling financially, stripping the community of facilities and forcing families to travel."
He added: "Poverty is not something that comes simply because you do not have enough money. The very roots of poverty are embedded within the failure to listen to those who have lived and will have to live with the consequences of decisions that are made by those who are abstract to the reality that people face.
"Poverty is also an issue of facilities and, in particular, when they are taken away from those who need them most.
"I already feed 700 people each year through the foodbank at the school. That is the level of the problem here."