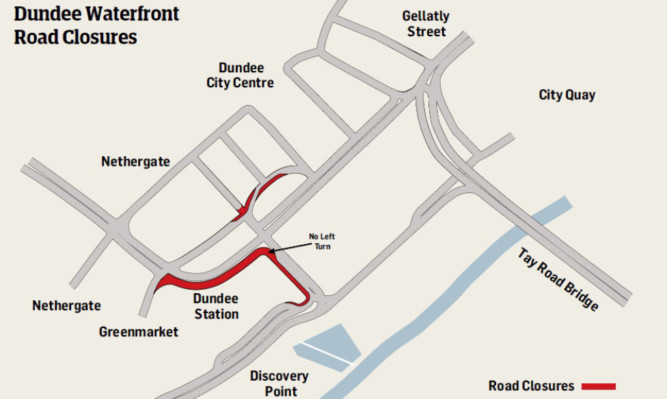 Drivers in and around Dundee city centre need to be alert to a series of road closures next week.
The road surfacing of key junctions between the heart of the town towards the riverside will be carried out on Wednesday and Thursday, as the £1 billion transformation of the waterfront continues apace.
The council state that work, focused on South Union Street, which runs from the foot of Union Street to Riverside Drive, has been scheduled to be carried out off-peak in an effort to minimise disruption and any inconvenience.
Any road closures will be implemented overnight to minimise disruption.
South Union Street heading north to South Marketgait and westbound to Greenmarket car park will be closed between 7pm and 6am on both Wednesday and Thursday.
Drivers using these routes will be diverted via the inner ring road.
Access to the Dundee Railway Station lay-by at Riverside Drive will be maintained throughout the road closures and the taxi rank will remain open.
Union Street at its south junction with Whitehall Crescent and Yeaman Shore will also be closed for surfacing and road marking work.
Drivers using South Union Street northbound and Whitehall Crescent westbound routes will be diverted via Whitehall Street.
On-street parking will be suspended in Whitehall Crescent during the programme of works.
Most of the major infrastructure works for the regeneration project including roads, utilities, demolition, landscaping have now been completed and the 'build' phase is well under way, with a growing community of businesses and residents moving into the Waterfront area.
Included in the massive development is the city's new railway station, a new marina, port developments, offices, hotels, bars, shops, cafes and residential accommodation and, of course, its centrepiece the V&A Museum of Design Dundee.
Project leaders state around 7,000 new jobs will be created, providing a wide range of new opportunities for young people seeking training and employment.
Dundee Waterfront is a partnership between Dundee City Council and Scottish Enterprise.