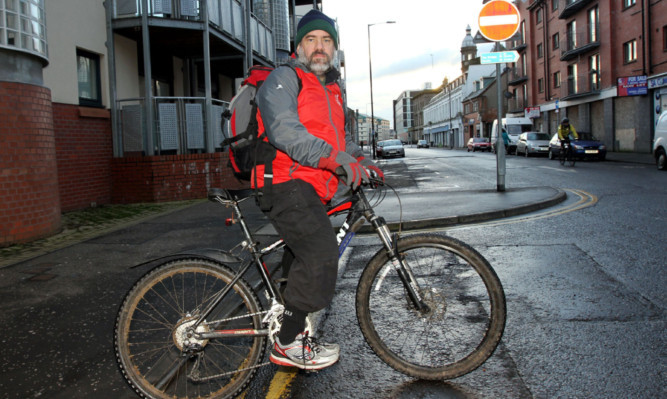 Cycling in Dundee is being made more dangerous with the ever-changing roadworks around the waterfront, it has been claimed.
David Martin, chairman of Dundee and District Cycling Association, said cyclists are facing heavy traffic as soon as they come off the Tay Bridge.
"Some of my colleagues travel through the waterfront development and daily get very frustrated wondering what it is going to be like today.
"If you think it is bad for cars, it is a lot worse for cyclists. Trying to find your way to or from the bridge and you'll end up in heavy traffic.
"A few years down the line, there will be a good cycle route incorporated into the waterfront area, but it is what is happening now that is concerning us.
"The problem in Dundee was made worse for cyclists by bad signs," he said.
He added that the city is far from cycle friendly at the best of times and is calling for a 20mph speed limit in the city centre.
Mr Martin said: "There is a problem in the city and I am very much in favour of a 20mph speed limit in the town and areas where it is residential.
"It has proved successful in other places and serious accidents have been reduced in some places. It just makes the place so much safer."
Cyclists have been seriously injured in collisions in the city, most recently on Hilltown and Riverside Drive.
Mr Martin said another area of concern was in Trades Lane.
He said: "The cycle path up from the Greenmarket to the Nethergate has disappeared, and if you are heading to the bridge from the Nethergate it is very difficult to find a route.
"This is a main route into the city coming off the bridge but there is no clear way through for cyclists. This results in cyclists either getting completely lost or ending up in the middle of very heavy traffic."
Director of city development Mike Galloway said the council is proposing to improve the situation in Trades Lane in the very near future.
He said: "Following the redesign of Trades Lane for the waterfront development, a major cycle connection was lost," said Mr Galloway.
"It is proposed to remove two sections of pay and display restrictions to provide safe cycle contraflow against the main flow of traffic."Not the best, but not the worstCyclists and traffic? That's a subject that always creates controversy, writes online editor Richard Rooney.
But here's a really controversial statement: I think we get on pretty well in Dundee.
My daily cycle route to work avoids the city centre, and maybe things are more fraught there. But I do have to pass through the hell that is the Claypotts junction and also take in part of the Kingsway.
So am I taking my life in my hands?
Well, it might be a case of famous last words but I generally feel safe.
Dundee's Green Circular route might not rival the cycling infrastructure of the more advanced parts of continental Europe, but I use part of it every day and don't have any complaints.
When I do have to join the roads, I find drivers are courteous and seem to respect my right to be there.
Of course, there are the occasional incidents I have a camera on my bike and recorded a particularly spectacular piece of red light jumping just this week.
But I can only remember a handful of times when I felt a driver had put me in danger. And they were the result of carelessness rather than malice.
So traffic? Not a problem.
Dog owners, however. Now that's a different story…