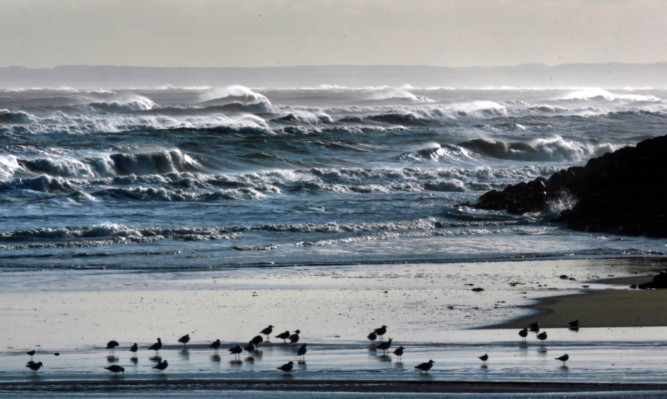 The full scale of how much radioactive waste has been dumped in Scotland's seas has been revealed
Documents have emerged which show more than 75,000 luminised dials coated with radium were tipped into the Tay Estuary after the Second World War.
Archive files from the 1950s also reveal how radioactive waste from a Dundee plant was secretly dropped into the waters below the Forth Bridge, less than a mile from a radium-contaminated beach at Dalgety Bay in Fife.
The archive files also show other dump sites around Scotland and how waste and sludge from nuclear submarines based at Rosyth Dockyard was regularly being deposited in the Firth of Forth during the 1960s.
Documents at the National Records of Scotland show the now-defunct electronics firm Ferranti Ltd dumped scrap from its Dundee radio valve manufacturing plant in the Firth of Forth at North Queensferry every three or four months between 1954 and 1956 without permission.
Minutes from a Government meeting in 1957 show how national chief chemical inspector Eric Birse concluded Ferranti "had simply decided on their own that it would be a good place for dumping".
During a visit to the plant in October 1956, the Radiological Protection Service told Ferranti that "the quantities involved could well present a hazard and that you should obtain approval for your dumping point and quantities to be dumped".
The dumping spot is close to the beach in Dalgety Bay which has been closed because of radium contamination.
The beach was used to break up to 800 planes after the Second World War and the contamination there is thought to come from the instrument dials on the aircraft which had been illuminated by paint containing radium.
The Scottish Environment Protection Agency last year blamed the Ministry of Defence for the contamination, which is being released as the headland erodes.Defence chiefs have disputed its findings.
Documents at the National Records of Scotland also show how the now-defunct Dundee firm UK Time a forerunner to Timex arranged a deal with local fishermen to put 35,000 luminised dials coated with radium into drums and dump them in the Tay Estuary in 1949.
The arrangement, according to Scotland Office papers, continued for eight more years at an estimated 5,000 dials a year before dumping was switched to the UK Government's site at Beaufort's Dyke between Northern Ireland and Scotland.