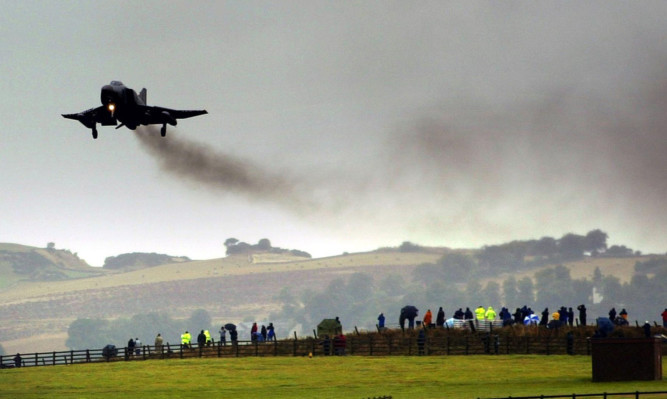 Threats to Britain's coastline from Russian aircraft and submarines could prompt the Ministry of Defence to reopen Leuchars as an air base.
The Courier understands that a new fleet of maritime patrol aircraft (MPA) could be based in Fife as part of theGovernment's forthcoming defence review.
The UK has required planes from Nato to scan its waters for submarines since its Nimrod fleet was retired without replacement in 2011.
However, with Russian military craft operating close to the nation's territorial boundaries, the ability of the RAF to patrol its own borders has come under scrutiny, raising the possibility of the force returning to Leuchars.
Dunfermline and West Fife MPDouglas Chapman, a member of the Defence Committee, welcomed thepossible return of MPA operations to Scotland.
"Failure to renew this vital part of our defence infrastructure in 2010 was adisastrous decision by the coalitionGovernment," he told The Courier.
"Not only did it leave Scotland's huge North Atlantic coastline undefended and exposed, it removed vital skills and investment from our economy at the height of the economic crisis."
The Courier understands that the Ministry of Defence is considering the purchase of up to nine Boeing P-8Poseidon aircraft, with the former air base at Leuchars just one potentialdestination for the new fleet.
Leuchars Station, as it is now known, was handed to the army in March following the relocation of the air force and its Typhoon aircraft to RAF Lossiemouth.
Former Dunfermline and West Fife MP Thomas Docherty said that "it makes a lot of sense" to place MPA at Leuchars, even in the short term.
"It is my understanding that therunway at Leuchars is still intact so that physical element is there," he added.
A Ministry of Defence spokesperson would only say: "The Strategic Defence and Security Review 2015 is considering the current and likely future national security risks and in turn the capabilities the armed services will need to address these risks in the future.
"No further capability decisions have been made."