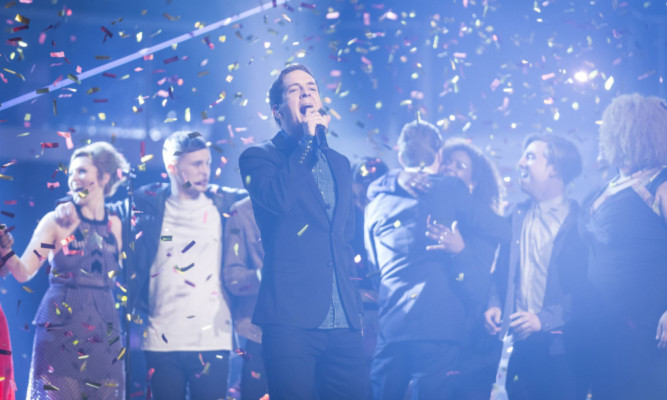 The Voice winner Stevie McCrorie has refused to rule out a return to his life-saving 999 job as a firefighter in case his music career does not work out.
The singer has indicated he plans to hand in his notice to the Scottish Fire and Rescue Service and follow his musical dreams after his debut single Lost Stars shot to the top of the Vodafone Big Top 40.
But the father-of-one from Alva, Clackmannanshire, said he was "very realistic" about what lies ahead.
The firefighter, who serves with Blue Watch at Kirkcaldy Fire Station, said: "I know how hard the industry is and how much amazing talent there is out there to compete with.
"Ideally I'd like to have the opportunity to go back if they'd allow me.
"It would just be a security blanket kind of thing."
Stevie's Scottish Fire and Rescue Service colleagues were delighted for him when he won the BBC TV talent show contest on Saturday night.
Among those who gathered at the VIP lounge in O'Connells on Kirkcaldy High Street were firefighters Harry Herd and Graeme Miller who nominated Stevie for the show last year without telling him.
Stevie, who is known among his firefighting colleagues as "the bairn", said he was grateful for being nominated at a time when he was not necessarily confident enough to do it himself.
Now he hopes he might be able to put on a special gig for his workmates as a way of saying thanks.
Stevie's single, a cover version of an Adam Levine song, was released on Saturday night after the 30-year-old was crowned winner of The Voice.
The bookies' favourite beat hopefuls Emmanuel Nwamadi, Sasha Simone and Lucy O'Byrne.
He declared afterwards that his dream had come true as he celebrated his win.
As he continued a round of national media interviews, he revealed he was "emotionally tired" but wasn't complaining because it was "such a privilege to be in this position".
Reflecting on the final at Elstree Studios in London, he said: "At the start of the show I was really enjoying it but then when I got to the final two, the emotions started to get to me a wee bit. I'm only human.
"I was just a regular guy going in to this competition."
Recalling the announcement of the winner with the pause for effect by the TV hosts, he said: "It felt like forever. I was like please please please say the name, just hurry up and say anybody's name.
"Let's get this over and done with."
Stevie went to an after-show party with his wife Amy, 29, brothers Paul, 33, and Michael , 34, and coach Ricky Wilson.
He made sure he did not party too hard.
There was a scare in the early hours of the morning when he had to take his wife to hospital after she complained of stomach pains, which were possibly stress related.
She was released later but Stevie said it was a "reality check".
Stevie said he was delighted he is on course to be the most successful winner of The Voice.
He is already being lined up to play at T in the Park and hopes to use the contest as a "platform" to pull a band together.