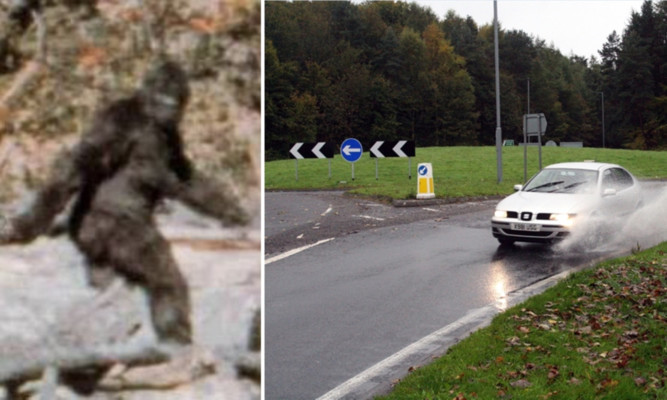 A man told his mum he saw a Bigfoot roaming the Fife countryside after reading about a similar experience in The Courier.
Mark Luke, 46, from Edinburgh broke his silence for the first time after struggling to come to terms with what happened for over a decade.
He decided to speak out after stumbling across an online article from last year on The Courier website while researching his own alleged encounter.
Mr Luke, who is a carer, said he spotted the mythical beast just off the Tay Road Bridge in 2005 whilst travelling to Dundee to fill in for nightshift security cover.
His sighting happened in the same year that a former civil servant from Fife reported seeing a creature at the Five Roads Roundabout when he was driving home from work.
Just like Mr Luke, the civil servant had also told nobody at the time and only spoke publicly about what happened some 10 years later.
Mr Luke said: "I had a similar encounter driving back to Edinburgh from nightshift security in Dundee, around 8am, on the A92 south in the same rough are.
"I can remember a forest and I looked to my left to see a tall dark shape standing 20 feet away in the trees.
"At first I thought it was a man but then it came towards me.
"He must have been huge, some eight to ten feet tall, and really wide.
"I was quite scared and confused to be honest.
"I was doing 60mph and I was not going back to look.
"It was dark under the trees.
"I could see shape but no detail.
"I only told my mother after reading the story in The Courier."
Most scientists discount the existence of Bigfoot and consider it to be a combination of folklore, misidentification, and hoax, rather than a living animal, because of the lack of physical evidence and the large numbers of creatures that would be necessary to maintain a breeding population.
Mr Luke said: "I'm 90% sure they are out there,
"I wont ever be 100% sure until I see a body or capture one.
"There's too many unexplained things still out there."
Mr Luke has now joined the British Bigfoot Research team in a bid to track down the truth.