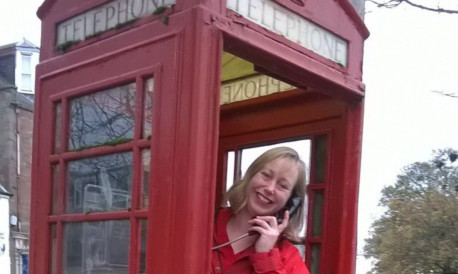 A phonebox bought for just £1 is to be the centrepiece of a major new cultural project in east Perthshire.
The red box at Alyth will be transformed into a "time machine" by the community council, which is looking to create a historical record of the town and its people.
In years to come, locals and visitors alike will be able to slip inside and dial up a chosen year to listen to the recollections of local people, relayed through the handset.
Sound artists are already working with locals to record stories and sounds from the present, oral histories from within living memory, and recreate stories and sounds from the distant past.
Former residents with a keen interest in supporting the project have already recorded and sent stories from as far away as Canada.
In a twist, the artists will also be working with young people to envision the stories and sounds of the future, with youngsters at the local primary school invited to consider what Alyth will be like in years to come.
Alyth Youth Partnership, Alyth Museum and the Alyth Family History Project will all be involved, the latter two in particular as they are offered the chance to bring their collections to life.
"The Story Box is a community audio artwork and oral history project that aims to capture the sounds of the town of Alyth and its people as a historical record of a rural community," said Marian Bruce of Alyth Community Council.
"The stories and sounds will be available to the public by lifting the receiver in the phone box in Alyth town square.
"In a similar way to Doctor Who's Tardis, the old red phone box will allow listeners to travel through time to access recordings from the present, the past and the future.
"Stories will be accompanied by music, songs and different sounds from the town."
The Story Box is part of the wider Cateran's Common Wealth Project, a two-year arts project based on the Cateran Trail.
If successful, the project could be extended to other locations on the trail and even to a network of rural communities across Scotland.
Marian will be available to meet people with stories to tell at Alyth Museum tomorrow and on Sundays November 23 and 30, between 2pm and 4pm each day.
She will be keen to hear any recollections and note them for recording next year.
Initial funding for the project has come from the SSE Drumderg Windfarm Community Fund.