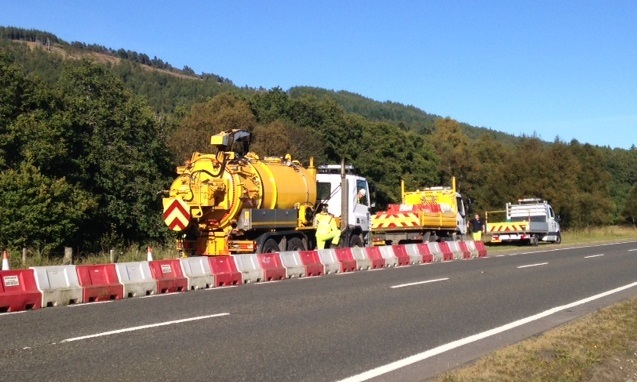 Police closed the A9 as a man who has lived at the side of the busy road for almost three years was evicted.
Charles Ingram started sleeping inhis car in 2012 to escape an apparent neighbour dispute.
His encampment, between Pitlochry and the House of Bruar, eventually expanded to include several tents.
It is understood Mr Ingram received warnings of his eviction on Friday, and yesterday Transport Scotland employees finally ordered him to leave.
There was outrage on social media, with some people claiming to havewitnessed Mr Ingram's belongings being thrown in a skip.
Amanda Taylor wrote: "This poor man did no-one any harm in fact, he helped a lot of people who broke down on the A9 over the years, and recently helped my mother.
" To put his belongings in a skip!Where is the humanity?"
A Transport Scotland spokeswoman said the encampment had been removed as it was becoming a danger.
She said: "Decisions like this arenever taken lightly but reflect our responsibility for the safe operation of the trunk road network and our concern for Mr Ingram's personal welfare.
"We have been working closely with Perth and Kinross Council, as thelocal authority responsible for careand welfare issues, along with Police Scotland, to ensure everything possible has been done to resolve this situation amicably.
"The extent of the encampment on the A9 has grown in recent months and it is now a safety hazard and distraction for drivers and, as such, we have no choice but to take this action."
A spokeswoman for Perth andKinross Council declined to comment on Mr Ingram's individual case butconfirmed they had spoken to Transport Scotland.
She said: "We will do whatever we can to assist people who become homeless.
"This includes offering emergencyand temporary accommodation and providing support, advice and assistance to secure the most suitable housing option available to meet the household's individual needs.
"We also ensure that people have access to information about the range of benefits available to meet their housing costs.
"While we always fully meet our homelessness responsibilities there is no obligation on the individual to accept the help and support offered."
During the eviction a 69-year-old man was arrested for an alleged assault.