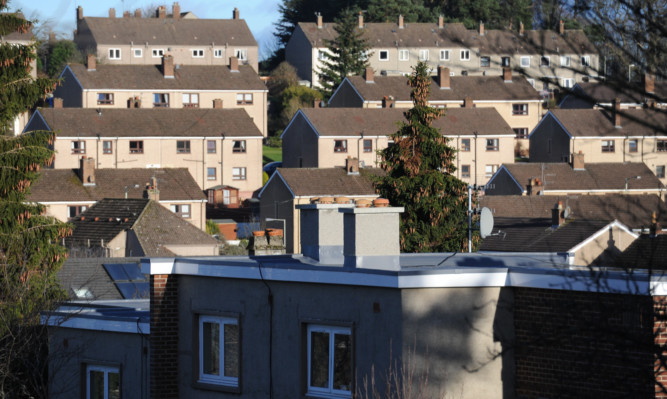 Council tenants in rent arrears face being pushed out by "draconian" new measures proposed by the local authority, claims a Perth councillor.
Nearly one third of Perth and Kinross Council tenants are currently in rent arrears, around 2,200 tenants, some of whom have debts of more than £3,000.
Today members of the council's housing and health committee will debate whether to move tenants who do not engage to pay back their debts into temporary accommodation under a short secure tenancy.
Plans are also being developed to withhold repairs until rent is paid, as part of sanctions on tenants with no clear reason not to regularly pay rent.
In a report to the committee, service manager (housing) Michelle Dow said: "Work is currently under way to revise the current Arrears Policy to strengthen the sanctions for arrears, which may include withholding repairs until rent is paid. This policy will be presented to committee for full approval in November 2015.
"It is proposed that, in the meantime, committee approve an immediate enhancement to technical evictions which will mean that tenants will be moved to alternative accommodation under a Short Scottish Secure Tenancy (SSST) agreement and have to accept support as a condition of their tenancy."
Liberal Democrat councillor Pete Barrett said: "The council is in danger of introducing a draconian sanction and compulsory engagement through coercion.
"This could cost tenants even more money or saddle people already in debt with (a) much heavier burden of debt.
"Who is going to pay for the costs of removal and storage of furniture and possessions?
"This will cause disruption to families and children's schooling. This clearly hasn't been thought through properly."
Mrs Dow stated the benefits of the short secure tenancy proposal included removing the full security of tenure and ensuring tenants engage with support.
She added: "If after that the tenant does not engage to address their arrears, the tenancy will be ended through the normal process."
The report revealed that a total of 75 per cent of tenant arrears are with those who do not receive housing benefit.
The average rent arrears balance for those not receiving housing benefit rose from £483 in 2013 to reach £713 in 2015.
Mr Barrett added: "Tenants with rent arrears invariably have other debts. Almost three quarters of tenants have council tax debt, too, and are probably struggling to meet other payments, such as gas, electricity, food and other bills.
"This demonstrates the need for much closer and more effective working with other agencies, such as Citizens Advice Bureau and the Perth and Kinross Credit Union."