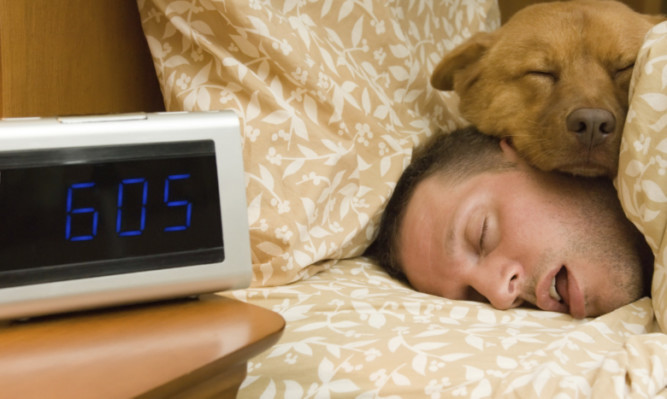 "Early to bed, early to rise makes a man healthy, wealthy and wise" goes the old proverb.
But it seems that the amount of sleep we are getting in the modern world has been steadily decreasing.
We spend nearly a third of our lives asleep but how much sleep an individual takes and actually needs can vary greatly.
Leonardo Da Vinci, Thomas Edison, Napoleon and Margaret Thatcher all famously claimed to survive on less than four hours a night.
But for many, getting that all-important eight hours is just a dream.
According to the findings of a new study, the average Briton sleeps for an average of 6.5 hours each night, with the majority of respondents admitting they don't get enough sleep.
The average Scottish adult rises at 6.40am and goes to bed at 10.30pm, but the majority of survey participants said they woke on average twice during the night.
Londoners emerged as the UK's earliest risers, typically waking at 5.30am, with North Easterners the biggest night owls, staying up until 12:30am.
When asked if they ever struggle to sleep after going to bed, 62% confessed this happens to them at least once a week, with 16% saying they struggle to sleep every night.
The top five answers for difficulty sleeping were worry/stress (36%); partner's snoring (21%); outside distractions (busy roads/bright lights/nocturnal animals) (14%); babies/children staying awake (7%) and loud neighbours (5%).
According to Dr Marie Ferguson, consultant clinical psychologist with NHS Fife, the consequences of sleep deprivation can be profound.
She told The Courier: "We need sleep because it's our body's way of repairing itself.
"There's also evidence that we need more sleep if we are learning something. For example, studies have shown that students need more sleep. Poor sleep can be caused by a variety of factors but is usually a sign of anxiety and depression."For more on this story see Friday's Courier or try our digital edition.