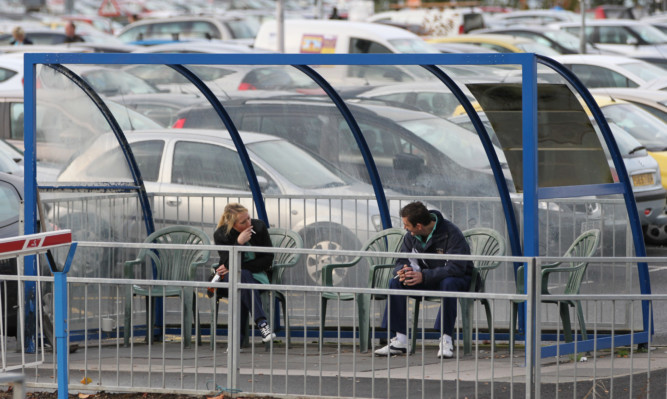 Plans to make smoking in hospital grounds illegal are "inhumane, vindictive and petty", MSPs have heard.
Simon Clark, director of the pro-smoking campaign group Forest, said the move would penalise patients and staff who smoke and be difficult to enforce.
Holyrood's Health Committee is taking evidence on a Bill that would make it an offence to smoke in designated zones outside buildings on NHS hospital sites.
Scotland's health boards have already committed to smoke-free grounds at the request of the Scottish Government.
Mr Clark told the committee that making smoking a statutory offence would "go against the so-called caring NHS".
He said: "Going to hospital as a patient or a visitor can be a very stressful experience. It's also quite stressful for many members of staff.
"To ban smoking on all hospital grounds, we think, is totally inhumane, it's totally vindictive, it's petty, far pettier actually than banning smoking in pubs. At least people can still go outside.
"To extend it to entire hospital sites, we think, is absolutely outrageous.
"For a lot of patients in hospital having the odd cigarette, there's a comfort factor there, it's something they actually look forward to, and to deny them that right to have a cigarette anywhere on hospital grounds is totally and utterly wrong.
"I think it's going to be quite expensive to enforce and we've read newspaper reports in recent months in Scotland of a lot of people simply ignoring smoking bans on hospital grounds."
Mr Clark agreed that smokers congregating outside entrances to hospital buildings was "not a nice sight" but suggested designated shelters or a 100-yard no-smoking zone would be more appropriate.
He added: "You are putting people potentially at risk by forcing them further and further away from hospital grounds just to light a cigarette in the open air."
Sheila Duffy, chief executive of health charity Ash Scotland, said: "I think it's a real myth, and it's one that the tobacco companies perpetuate, that smoking relieves stress and when we look at the research actually there is an inverse relationship.
"I think the aim in Scotland is to put tobacco out of sight, out of mind and out of fashion, and as part of that of, course, you have to be compassionate with people who are used to smoking and who may have a physical addiction, and the NHS is very good at offering all kinds of support to people to try and manage that."
Linda Bauld, professor of health policy at the University of Stirling, said the NHS "could do a lot more" to offer people alternatives.
She said: "I think that most of us would agree that having smoking in the very place where people go to get well, even if it's outside the building, is not compatible with the NHS. We are spending millions of pounds trying to treat smoking-related disease.
"Although I welcome this in principle, it's not clear who's going to enforce this extension."