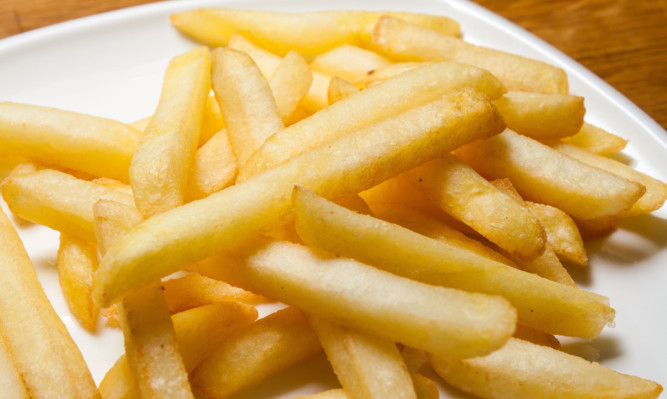 A third of Scottish men eat ice cream once a week and chips at least twice with their waistlines bulging more than women's, according to a new study.
Just over a quarter (26%) of women enjoy the chilly sweet treat at least once a week and a quarter (25%) eat chips twice or more in seven days, while for men the figures are 33% and 37% respectively.
The Scottish Health Survey 2014 found men tend to eat more foods high in fat and/or sugar than women, as well as more red or processed meat. Women are more likely to consume oily fish or tuna regularly.
Men were found to be more likely than women to be overweight.
It also noted only one in five adults (20%) met the recommendation of eating five portions of fruit and vegetables a day, while one in 10 (10%) did not consume any.
On average, adults ate 3.1 portions of fruit and vegetables a day in 2014.
A total of 14% of children aged two-15 met the five-a-day recommendation, with the average child consuming 2.8 portions of fruit and vegetables daily.
Almost two-thirds (65%) of adults were classed as overweight last year, including 28% who were obese.
The survey said: "Levels of overweight and obesity, and the mean body mass index, have not changed significantly between 2008 and 2014, although they were all higher than in 1995.
"A higher proportion of men than women were overweight including obese (69% compared with 61%), while women were more likely than men to be obese (29% compared with 26%).
"A majority of the population is overweight including obese from the 25-34 age group upwards, with levels rising to 77-78% of those aged 55-74. Around a third of people aged 45-74 were obese."
Amongst children, 68% of two to 15-year-olds were of a healthy weight last year, a level that has not changed much since 1998.
Meanwhile, 63% of adults last year were active at the recommended level of 150 minutes of moderate or 75 minutes of vigorous activity per week, while just over three-quarters (76%) of children aged two-15 met the guidelines of 60 minutes or more of physical activity a day.
The survey of 4,659 adults and 1,668 children also found that fruit and vegetable consumption was lower among adults and children living in the most deprived areas, and steadily increased as deprivation declined.
There was also a clear pattern of higher levels of obesity in adults in the most deprived areas compared with the least.
In every year since 1998, children living in the least deprived areas had the lowest levels of obesity risk and, from 2009 onwards, those in the most or second most deprived areas had the highest risk.
Last year, almost three quarters (74%) of adults identified their health as "good" or "very good", while 8% said it was "bad" or "very bad".
Most (95%) children were reported to have "good" or "very good" health, and just 1% "bad" or "very bad".
Almost half (46%) of adults had one or more long-term condition while 16% said they had ever been diagnosed with any cardiovascular conditions.
The Scottish Health Survey is commissioned annually by the Scottish Government to check trends in a wide range of public health measures.
It contained questions about e-cigarettes for the first time this year.
It found 32% of smokers and recent ex-smokers who had tried to give up had used the devices, with 36% using nicotine patches.
In total, 15% of adults said they had tried an e-cigarette, but only 1% of people who have never smoked had tried them.
Two-thirds (67%) of smokers said they would like to quit smoking.
Public Health Minister Maureen Watt said: "The Scottish Health Survey shows that there is still work to be done to encourage people to adopt healthier lifestyles. The Scottish Government has a range of measures in place to encourage people to eat healthier diets, quite smoking, drink less alcohol and take more physical activity.
"There is relatively little evidence on the number of people using electronic cigarettes and their reasons for using them. This survey gives us some useful information about what the situation is in Scotland.
"Further research on the health impacts of e-cigarettes on both users and bystanders is needed and we will continue to monitor evidence. However, current evidence suggests e-cigarettes are far less harmful than tobacco and if using them helps smokers quit entirely, then that is to be welcomed."
The survey also found 6% of adults said they were more interested in sport and physical activity in general as a result of Glasgow hosting the Commonwealth Games in 2014, while 4% said they were thinking of doing more sport or physical activity.
Diarmid Campbell-Jack, research director at ScotCen Social Research, said: "These findings confirm that e-cigarettes are being used by a small, but not insignificant proportion of people in Scotland with one in every 20 saying that they currently use electric cigarettes.
"It's important that the role of e-cigarettes isn't over estimated particularly until more is known about their long-term consequences, however the more that we see a decline in usage of tobacco cigarettes the better for the future of health in Scotland.
"We have only seen very small proportions of adults in Scotland claiming that the Commonwealth Games had influenced, changed their attitudes to or increased their participation in sport.
"We know from elsewhere in the Scottish Health Survey that poor health, a lack of time and lack of interest are the main barriers people mention when asked why they hadn't taken part in sport recently – this suggests a wide range of issues need to continue to be considered when addressing this issue."