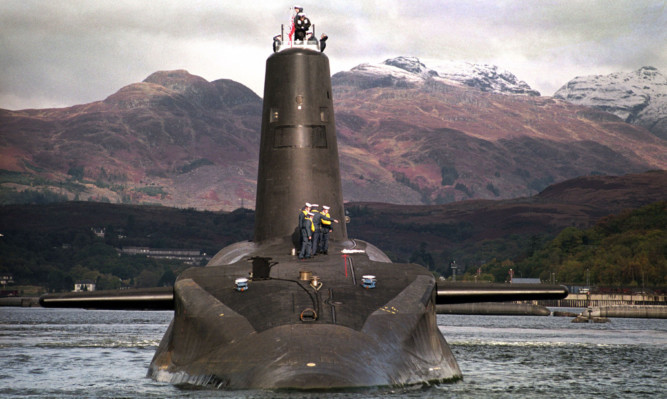 The new deputy leader of Scottish Labour has suggested a referendum should be held on whether Britain renews the Trident nuclear weapons system.
Alex Rowley, who was elected as Kezia Dugdale's deputy last Saturday, called for a wide-ranging debate on the issue and said he did not believe the case had been made for renewal.
On the Clyde-based deterrent, the former Fife Council leadertold The Herald newspaper: "It is a military issue, with serious question marks over whether it is the best way to defend the country, but it is also a moral issue.
"On such a massive issue, there should be debate across the party, the country, and a referendum.
"I have not seen the case made as to why we would renew, but the most striking thing is a complete lack of debate."
On Friday, the First Minister became the latest high-profile figure to sign a statement calling for plans to replace Trident to be cancelled.
Nicola Sturgeon added her name to the Rethink Trident statement, which has been organised by the Campaign for Nuclear Disarmament (CND) and Compass.
The statement says the country can "ill-afford to be spending in excess of £100 billion on replacing Trident with a new generation of nuclear weapons".
Labour leadership frontrunner Jeremy Corbyn has also signed the statement.
Mr Rowley said the veteran left winger would make a "first class" boss of the UK party.
He told the newspaper: "I have no fears whatsoever that if the Labour membership elect him, he wouldn't be a first class leader."
The Scottish Conservatives' deputy leader, Jackson Carlaw, said: "Week one of Scottish Labour take seven, and it is threatening to increase taxes and is now planning to put our nuclear deterrent at risk.
"Who needs Jeremy Corbyn when Scottish Labour chiefs like Alex Rowley are already stampeding back to the 1970s all on their own?
"These are not the priorities that Scottish voters want. We need a centre ground Scottish alternative to the SNP and the Scottish Conservatives are determined to provide it."
SNP MSP Bill Kidd, co-president of Parliamentarians for Nuclear Non-Proliferation and Disarmament, said: "I very much welcome Alex's rethink onTrident – he joins a coalition of voices from across politics, civic Scotlandand military experts calling on the UK Government to abandon its plan to waste£100 billion on replacing these morally abhorrent nuclear weapons.
"I hope now that Alex will join the First Minister in signing CND's Rethink Trident statement. With Labour's support, Scotland could speak with one voice on this issue and form a powerful collective voice against spending billions on obscene weapons of mass destruction."