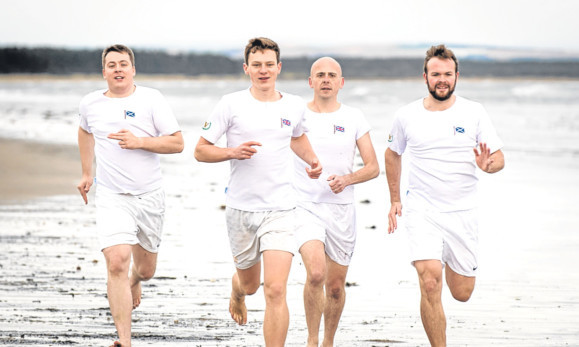 Famous scenes from Hollywood blockbusters have been recreated to help launch a new guide showcasing films shot in Scotland over the decades.
VisitScotland has developed a new book containing details of more than 100 films made in Scotland with Courier Country venues among those highlighted.
It features iconic locations from The 39 Steps, the 1935 Alfred Hitchcock film which includes the Forth Bridge, and Chariots of Fire, which was partly filmed on the West Sands at St Andrews.
The horror film The Descent, which was filmed near Pitlochry, and Scarlett Johansson's Under The Skin, shot at Auchmithie, can also be found in Set in Scotland: A Film Fan's Odyssey.
To help promote the new guide, the tourism body returned to some of the film sets to show off Scotland's role in the industry.
Four-year-old Mikey Bell from Kirkcaldy, complete with pedal- powered Aston Martin, visited Glen Etive to recreate a famous scene from the James Bond movie Skyfall, while a group of hardy volunteers braved the chilly St Andrews coast to copy Ian Charleson as Eric Liddell in the 1981 Oscar-winning Chariots of Fire.
The book will be available free in VisitScotland Information Centres, in branches of Waterstones and for download, and is the first Scotland-wide film locations guide produced by the tourism organisation.
Mike Cantlay, chairman of VisitScotland, said: "The guide serves as a fantastic way to introduce visitors to our country's many scene-stealing roles on the silver screen.
"It is a handy and fun way for people to enjoy a set-jetting holiday in Scotland, to follow in the footsteps of the stars and to find out why this country has inspired generations of film-makers."
There are special sections on James Bond and his Glencoe ancestry and Bollywood, as well as honorary mentions for popular television series such as Outlander, Downton Abbey and Balamory.
It also details some places that Scotland has stood in for on film, including Turkey (From Russia With Love), San Francisco (Cloud Atlas), Vermont (Flash Gordon) and even the surface of Jupiter (2001: A Space Odyssey).