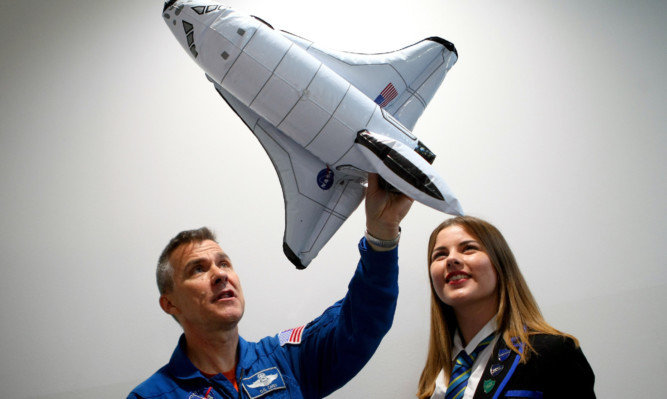 It was the defining moment for a generation. Where were you when you heard that the Challenger space shuttle had exploded shortly after take-off?
For thousands of children across Britain, in the days long before 24-hour news channels, it was whilst watching John Craven's Newsround on BBC One.
Shortly after 5pm on January 28 1986, the children's news bulletin became the first British TV programme to break the story.
Less than half an hour earlier, the 25th shuttle mission had blasted off from the Kennedy Space Center in Florida.
Yet within 73 seconds a fireball engulfed the spacecraft. The boosters pitchforked away while the orbiter broke apart, dooming its crew of seven.
From a NASA perspective, it was the worst possible flight to have lost with thousands of American children watching live on TV to see New Hampshire school teacher Christa McAuliffe become the first teacher in space.
The disaster resulted in a 32-month hiatus in the shuttle program and the formation of the Rogers Commission, a special commission appointed by the then United States President Ronald Reagan to investigate the accident. The Commission concluded that NASA's organizational culture and decision-making processes had been key contributing factors to the accident.
A potentially catastrophic flaw in solid rocket booster seals had been known about since 1977, but not acted upon, whilst the concerns of engineers who had recommended against launching in low temperatures were ignored.
It forced a re-evaluation of the shuttle and the inherent dangers of human spaceflight. NASA did change in many ways, including a more robust management process with more oversight, and more opportunities for independent assessments. It re-energized NASA's commitment to safety.
However, there was a second shuttle tragedy 17 years later on February 1, 2003, when NASA's flagship orbiter Columbia broke apart in the skies above east Texas as it re-entered Earth's atmosphere on the way to a planned landing at Kennedy after a 16-day science mission. Seven more lives were lost.
Damage had been caused when a piece of foam insulation broke off from the shuttle's external tank and struck the left wing of the orbiter during take-off. It was the beginning of the end for the 30-year shuttle program, which was finally retired on July 21, 2011.
One man who tries to take positives from the shuttle disasters is former NASA astronaut and space shuttle pilot Lieutenant Colonel Duane 'Digger' Carey.
On a recent visit to St Andrews University, he gave a fascinating insight into flying Columbia's final complete mission before the disaster.
He was the 410th human ever to enter space when he piloted Columbia on what was NASA's fourth Hubble Space Telescope servicing mission.
The crew successfully upgraded the Hubble, leaving it with a new power unit, a new camera and new solar arrays. During his shuttle mission he orbited Earth 165 times and covered 3.9 million miles in over 262 hours.
Speaking to The Courier from America where he is continuing his international mission to help young people attain their full potential through education, the former first Gulf War fighter pilot said: "Mine is a minority opinion, but I believe that the space shuttle program falls under the category of a 'necessary, magnificent, and noble failure.' Five hundred years from now, when historians look back on our current times, they may well conclude that America's space shuttle program, although it fell far short of its stated goals in many ways, was a necessary stumbling block that humanity had to encounter in order to learn how not to conduct manned space exploration. As it turns out, the system's complexity outstripped our humble abilities to successfully and safely manage same. I would argue that, without this experience, we would currently be far less capable of eventually conducting further human exploration of the cosmos."
Having experienced the dangers of space travel, it's for this reason that Digger believes humans should get the technology right by establishing a permanent Moon base before considering Mars. By contrast, NASA is developing the capabilities needed to send humans to an asteroid by 2025 and Mars in the 2030s.
It comes as commercial space travel moves closer, with Leuchars in Fife still in the frame as a spaceport contender.
He added: "Mars is going to be more hospitable than the Moon. The sad thing about Mars is that it's very very far away, and if you run into a problem with people out there, you might lose them."
NASA will hold a day of tribute on January 28 with events to honour the crews of space shuttles Challenger, Columbia, and Apollo 1, and other NASA colleagues who lost their lives while furthering the cause of exploration and discovery.
NASA Administrator Charles Bolden, Deputy Administrator Dava Newman, and other agency senior officials will hold an observance and wreath-laying at Arlington National Cemetery in Virginia.
There's no doubting that spaceflight has come a long way since the Soviet Union's launch of cosmonaut Yuri Gagarin into orbit on Vostok 1 in April 1961.
And undoubtedly the failures of the shuttle and its $192 billion program costs could be remembered more than its achievements. But the successes too are many and should not be overlooked.
From hauling the Hubble Space Telescope into orbit, to giving rides to the likes of the Jupiter-bound Galileo probe, from hundreds of small-scale lab experiments, to doing the heavy lifting for the International Space Station, the shuttles lessons remain considerable as we continue reaching for the stars.
A NASA spokeswoman told The Courier: "We in the NASA community, civil servants and contractors, constantly remind each other to remain vigilant, so that our astronauts can safely carry out their missions. We know spaceflight always has been, and will be, risky.
"The crews of Challenger and Columbia embraced this risk in a shared pursuit of exploration and discovery.
"Today, their legacy lives on as the International Space Station fulfills its promise as a symbol of hope for the world and a springboard to the next giant leap in exploration.
"We honour them by making our dreams of a better tomorrow reality and taking advantage of the fruits of exploration to improve life for people everywhere.
"We also honor (sic) the Challenger crew and others in the NASA community who have lost their lives in the pursuit of exploration and discovery by holding an annual agency Day of Remembrance at the end of January. Typically it's the last Thursday of the month, which is near the Apollo 1, and space shuttle Challenger and Columbia accidents. This year, it will be on the actual 30th anniversary of Challenger."
The 30th anniversary commemorations are particularly poignant for the current NASA administrator, former astronaut and Columbia, South Carolina native, Charles Bolden.
He has a personnel connection to Dr Ronald McNair, one of the astronauts killed aboard Challenger.
McNair was the person who convinced Bolden to apply to NASA's Astronaut Candidate Program.
As Bolden said at the dedication of the Dr Ronald E. McNair Life History Center in Lake City, South Carolina in March 2011: "He and the rest of that crew were personal friends, and that kind of loss and sacrifice is something you never forget. It re-energized NASA's commitment to safety."