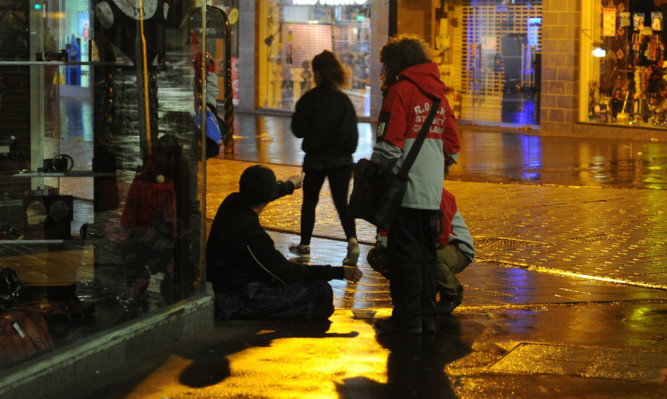 More than a thousand children in Tayside and Fife will spend Christmas without a home to call their own.
According to figures obtained by the Liberal Democrats, more than 100,000 people were homeless in Scotland on the past three Christmas Days. Of those, 31,000 were children.
The party's housing spokesman, Jim Hume, warned the situation will worsen if the Scottish Government does not keep to its election promise to deliver extra homes for social rent before the 2016 Holyrood election.
He said: "While there have been welcome decreases in some local authority areas, these figures show the appalling truth that thousands of people spent Christmas Day homeless over recent years.
"Many of them may have been placed in temporary accommodation, which is hardly a suitable way of tackling homelessness in the long term.
"Children and adults in this country have the right to have a roof over their heads and no one should have to spend a single day without a home."
Shelter Scotland has estimated that there will be 5,000 children homeless across the country this Christmas, a 15% increase on last year.
Labour's communities spokesman, Ken Macintosh, said progress in reducing the numbers of homeless had stalled, despite the Scottish Parliament passing world-leading legislation to tackle the issue.
He added: "This year the number of children who will spend Christmas Day homeless has increased. This problem is getting worse, not better."
Margaret Burgess, minister for housing, said: "The overall number of homeless applications has fallen for six consecutive years, and we have already exceeded our target to deliver 30,000 affordable homes during this parliament, including 20,000 for social rent.
"Preventing people from experiencing the misery of homelessness is a priority for us which is why we have ensured through legislation and regulations that the vast majority of homeless families in temporary accommodation in Scotland are in good quality, well-managed, furnished social housing, and that the time spent there is as short as possible before moving to suitable settled accommodation.
"In Scotland we've seen the overall number of children in temporary accommodation fall since 2007, but this is too important an area for complacency."
"I am in discussion with local authorities about the use of temporary accommodation for families with children and we are all committed to working together in the best interests of these households."