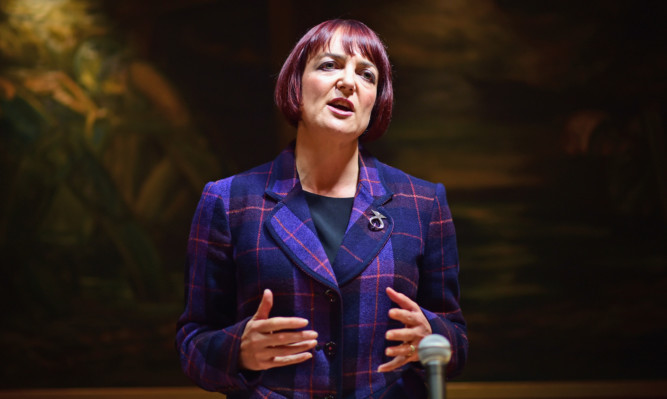 The Education Secretary is "actively considering" the removal of part of a Bill aimed at reforming university governance, following concerns that it could jeopardise millions of pounds of investment in the sector.
Universities Scotland says the Higher Education Bill increases the risk of reclassification by the Office for National Statistics (ONS), putting charitable status in doubt and potentially damaging philanthropic and entrepreneurial income streams.
Angela Constance told Holyrood's Education Committee that while she is confident the legislation complies with ONS guidelines, removal or amendment of the relevant sections is now under "active consideration".
The legislation is aimed at creating greater transparency and openness in higher education governance.
It includes a requirement for university chairs to be appointed in line with an agreed, consistent process, with ministers planning on using this to introduce elections for these positions.
The Bill, if passed, would also make sure staff, students and trade unions are all represented on university governing bodies, and would strengthen the current definition of academic freedom.
But there have been concerns about the impact of the changes on universities' autonomy, and the consequences of increased ministerial powers.
Conservative MSP Liz Smith said sections of the Bill "allows ministers to modify categories of membership of governing bodies and the number of persons to be appointed", but the Scottish Government had not carried out a consultation on these sections.
She said if these sections are "increasing ministerial power by definition, that means the ONS would have to look at that in the light of reclassifying them as public bodies".
She added: "All stakeholders, students, staff, academics, business – they are concerned about the aspect of ministerial control and ONS reclassification, as is the Scottish Government, so it claims.
"Would it not be sensible to remove sections eight and 13 from the Bill to take out any risk whatsoever?"
Ms Constance said "reclassification is an outcome that the Scottish Government would never want to realise".
She went on: "Considerations regarding ONS reclassification have been absolutely central to the work that has gone on around this Bill, and we have considered the issue of ONS reclassification prior to the actual introduction of the Bill.
"We're confident that the Bill is compliant with the indicators as laid out in the (ONS) guidance."
She said it was not the norm to consult on "routine housekeeping" sections in legislation, adding: "The concerns articulated by Universities Scotland and others are not concerns that I share.
"Nonetheless there is a willingness on my behalf and on behalf of the Government to look in detail at those concerns and a willingness to attempt to remove the concerns articulated by others."
Addressing whether the Bill would be changed, Ms Constance said: "That is being actively considered, whether we should look at amendment or removal."
Commenting after the committee, Ms Smith said: "Finally, we have an admission from the Scottish Government that there is a serious problem at the heart of this Bill which would do untold damage to our university sector.
"The education minister and her officials have been under intense pressure and I hope Angela Constance will now keep her promise to ensure that any section of the Bill which threatens to increase ministerial power and re-classify universities will be removed.
"The whole future of the sector depends on this."