The end of the union has taken a step closer thanks to the "supreme arrogance" of Prime Minister David Cameron, Alex Salmond has claimed.
Writing exclusively for The Courier, the former First Minister has branded proposals for EVEL (English Votes for English Laws) "a complete shambles".
"The day after Scotland's referendum campaign he (Cameron) sauntered out of Downing Street…to introduce EVEL for England," Mr Salmond said.
"In that moment of supreme arrogance he created one of the key narratives of the General Election campaign.
"With Scotland apparently safely back in its political box he decided to focus on England within minutes of the referendum result being declared."
Mr Salmond describes the EVEL proposals as "an insult to the intelligence as well as to Scotland".
"If implemented, in some votes Commons Scottish MPs will not be allowed to turn up," he continues.
"In other votes Scottish, Northern Irish and Welsh MPs will not be allowed to turn up.
"Then in another set of votes only English and Welsh MPs will be able to turn up.
"In yet other votes everybody will be allowed to turn up but English votes will be counted separately and if there is not a 'double majority' then the measure will not pass. It will be stuck in limbo, frozen in constitutional aspic."
Such measures have left Mr Salmond singularly unimpressed.
"All of this hokey cokey voting will create a Keystone Cops Parliament," he writes.
"Cameron is now wishing to create two classes of MPs the English MPs who will get to vote on everything and the rest who will only vote by leave of the Speaker.
"That can be called many things but it is not a Parliament where all representatives of all constituents are treated equally.
"It is a recipe for confusion and resentment and will hasten the end of the union it is being introduced to buttress."
* To read Alex Salmond's exclusive column in full pick up Monday's Courier or try our digital edition.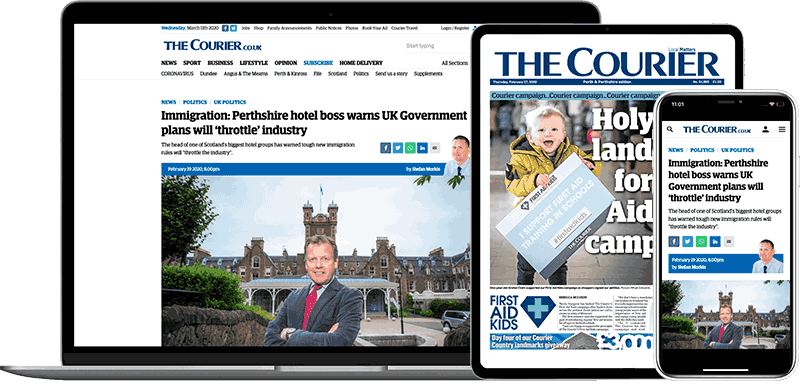 Help support quality local journalism … become a digital subscriber to The Courier
For as little as £5.99 a month you can access all of our content, including Premium articles.
Subscribe