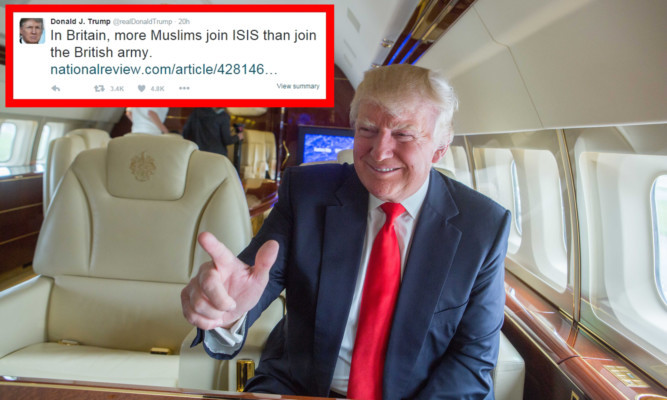 Alex Salmond has branded embattled tycoon Donald Trump "crazy" after the businessman fanned the flames of controversy by suggesting more British Muslims joined Islamic terrorists than the army.
The former first minister has added his voice to the growing cacophony of criticism surrounding the under-fire presidential candidate, who recently argued that Muslims should be banned from entering the United States.
Taking to Twitter, Mr Trump claimed that "in Britain, more Muslims join Isis than join the British Army".
Nicola Sturgeon has already stripped Mr Trump of his GlobalScot ambassador status, while Robert Gordon University have also removed his honorary degree from the institution.
A petition, started by Aberdonian Suzanne Kelly, calling for Mr Trump to be banned from entering the UK, has reached more than 500,000 signatures making it the most popular in history.
In an interview with Russian TV channel Russia Today, which will be broadcast today, Mr Salmond said: "Most presidents of the United States or UK prime ministers usually have about 10 years in office before they go crazy.
"Donald Trump has made it as a candidate."
Mr Salmond and Mr Trump have enjoyed a stormy relationship in recent times, with the pair engaging in a high-profile bust-up over windfarms off the Aberdeenshire coast.
Earlier this week, SNP MP Tasmina Ahmed-Sheikh called on Home Secretary Theresa May to consider banning Mr Trump from the UK following his suggestion that there should be a "total and complete shutdown of Muslims entering the United States".
The US billionaire also claimed parts of London are "so radicalised" the city's police force fear for their lives.But Mr Trump received support from media personality Katie Hopkins, who went on US television channel Fox News to defend Mr Trump.
A counter petition, calling for Mr Trump to not be banned from entering the UK, has also been set-up and has received more than 30,000 signatures.
David Gladwin, who started the petition, said: "Leave the decision making on appropriate responses to the Americans. Let's mind our own business."