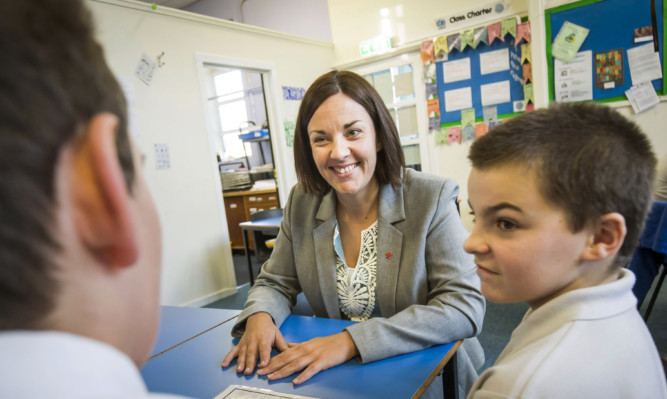 Scottish Labour leader Kezia Dugdale will call on the SNP to back her party's pledge to protect education spending in the next Scottish Parliament when she leads at debate on the issue at Holyrood.
Ms Dugdale will highlight research which she says shows non-protected areas such as schools face real-terms cuts of more than 16% by 2019/20 as a result of the Scottish Government's budget.
Scottish Labour has proposed using new powers to add 1p to the basic rate of income tax, which the party says would generate an extra £500 million for education.
It would also use the new powers coming to Holyrood to set a 50p top rate of tax.
The money raised from this would be used to establish a Fair Start Fund to invest £1,000 in primary schools for every child from a deprived background.
Ms Dugdale is expected to say: "Scottish Labour has made a very clear commitment to protect education spending in real terms over the next five years
"Faced with a choice between using the powers we have today to invest in our nation's future prosperity and cutting schools, we choose to use our powers. Today we put a very simple proposition before Parliament: no more cuts to education."
She will add: "Nicola Sturgeon claims that education is her priority yet the hundreds of millions of pounds in cuts her budget will impose on schools and other public services exposes the reality.
"Under the SNP's plans, more than £2.2 billion could be stripped from Scotland's public services that the SNP refuse to protect in the next five years. That's a 16% cut.
"We cannot afford to cut our schools in that way. If we want to close the gap between the richest and the rest, and if we want to give every young person the skills they need to grow our economy and succeed, we need to invest in our schools.
"Nicola Sturgeon should ditch her plans to cut education spending and back Labour's pledge."