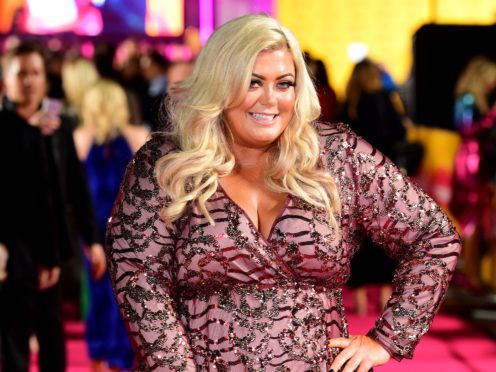 Gemma Collins has returned to the BBC Radio 1 Teen Awards by appearing to skydive into the SSE Wembley Arena.
In the stunt – meant to mock her well-publicised fall at last year's event – the The Only Way Is Essex star appeared to crash through the stadium's roof before tumbling on to the stage.
In footage shown on screens around the venue, the reality star, 37, was heard shouting "I love you Wembley, my heart is racing, oh my God" before launching herself out of an airborne plane.
The star, who was earlier this month announced as a contestant on the 11th series of ITV's Dancing On Ice, posted a video of her leap to Instagram, captioning the clip: "What an ENTRANCE this year again."
Collins could also be heard referring to the plane as Gem Force One.
However, the footage was revealed to be pre-recorded after the star emerged on stage, unruffled by the fall.
She then addressed the 10,000 teenagers between the ages of 14 and 17 who attended the event.
During last year's event, The Only Way Is Essex star was on stage to announce Love Island as the winner of the best television show prize.
A hole opened up beside her to bring the winners up, but Collins did not appear to notice and slipped, taking a nasty tumble into it.
The video quickly went viral and Collins later claimed she would sue the event's organisers for her fall.
The event – which honours the UK's unsung teenage heroes as well as music, sport and entertainment stars – was fronted by BBC Radio 1 Breakfast show host Greg James, Mollie King from The Saturdays and Maya Jama.