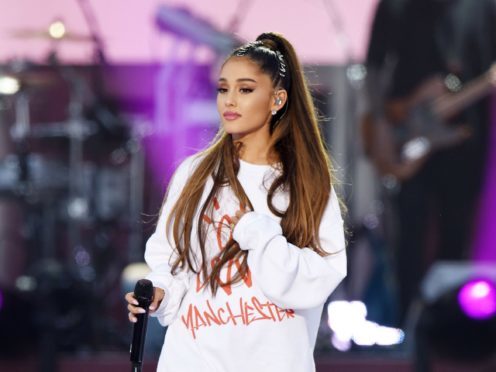 Ariana Grande has paid tribute to her late ex-boyfriend Mac Miller, a week after splitting from fiance Pete Davidson.
The US pop star shared a short, intimate video on her Instagram story of rapper Miller, who died in early September at the age of 26 from a suspected overdose.
The black and white footage shows Miller, real name Malcolm McCormick, wearing a suit and standing next to Grande's mother – who appears to be fixing the sleeve of his jacket – and grandmother, before he turns to smile at Grande.
The singer added a small heart image over his shoulder in the clip.
The music stars were in a relationship for around two years before splitting earlier this year.
Miller performed with Grande at her One Love Manchester concert last summer in the wake of the Manchester Arena bombing and the pair released music together before they broke up.
A few days after his death, Grande paid an emotional tribute to Miller along with a video of him on Instagram.
She said: "i adored you from the day i met you when i was nineteen and i always will. i can't believe you aren't here anymore.
"i really can't wrap my head around it. we talked about this. so many times. i'm so mad, i'm so sad i don't know what to do. you were my dearest friend. for so long. above anything else.
"i'm so sorry i couldn't fix or take your pain away. i really wanted to. the kindest, sweetest soul with demons he never deserved. i hope you're okay now. rest."
Her latest social media post of Miller came a week after Grande, 25, and comedian Davidson, 24, ended their relationship.
The couple had announced their surprise engagement in June after just weeks of dating.