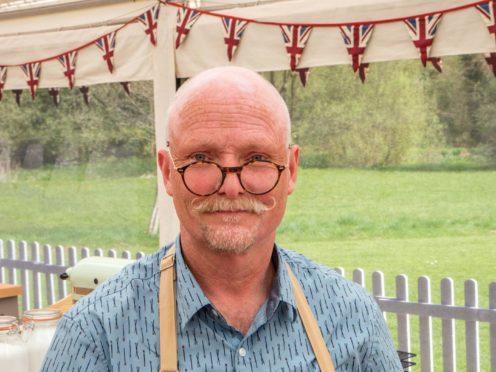 Great British Bake Off contestant Terry has thanked fans for their "love and encouragement" during his time in the series, which came after the death of his wife.
Terry, 56, quickly become a favourite among fans for his quirky creations, but left in the fifth week.
His emotional exit touched viewers' hearts as he told of how the competition had helped with his grief following his wife Joanna's death from cancer last year.
The show's official Twitter account shared a handwritten note from "lovely Terry", who is not on social media.
The note read: "I would like to express a massive thank you to everybody who has supported me and my family over the last few months.
"We are so overwhelmed by the huge response we have received and I am particularly grateful for all your kind words online and on social media.
"It has been a difficult time since the loss of my wife and when my daughter applied for the show on my behalf we never could have expected the wonderful reaction that we have experienced and continue to receive.
"In the tent it was tough and difficult at times (a melting Eiffel Tower for example). I thank you all for seeing the vision!
"But it has been so very enjoyable and I have made some wonderful lifelong friends. I am very excited for the future and again would like to say a huge thank you to everyone for their love and encouragement. Yours, Terry."
Terry, a retired air steward whose background as a prosthetic technician helped him to add some unusual touches to his bakes, left during spice week in a double eviction along with Karen.
After he was eliminated, he said: "My wife and I were very happy and that was a massive loss.
"There wasn't anything that filled that void for a very long time so it did give me focus.
"It's been a big help."
The Bake Off final airs on Tuesday at 8pm on Channel 4 and will see Kim-Joy, Rahul and Ruby battle it out to become the champion.