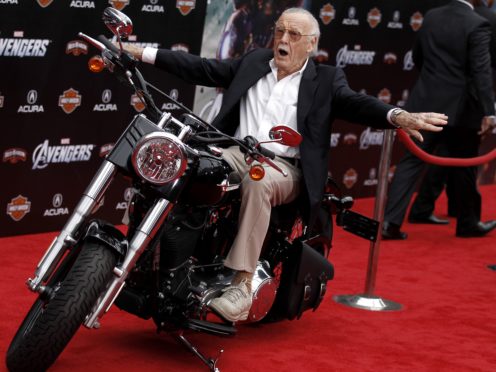 Movie stars have remembered late Marvel Comics co-creator Stan Lee as a "creative genius" who will leave "an indelible mark".
The Associated Press said a family lawyer had confirmed the death of the creator of Spider-Man, The Fantastic Four and The Incredible Hulk on Monday morning. Lee was 95.
Since the news broke, stars of the Marvel movies and fans having been paying tribute to Lee on social media.
Hugh Jackman, who played Wolverine in the Marvel franchise, shared a picture of the pair together on Twitter and wrote: "We've lost a creative genius. Stan Lee was a pioneering force in the superhero universe.
"I'm proud to have been a small part of his legacy and… to have helped bring one of his characters to life. #StanLee #wolverine."
Captain America star Chris Evans tweeted: "There will never be another Stan Lee.
"For decades he provided both young and old with adventure, escape, comfort, confidence, inspiration, strength, friendship and joy.
"He exuded love and kindness and will leave an indelible mark on so, so, so many lives. Excelsior!!"
Iron Man star Robert Downey Jr posted a picture on Instagram of the pair standing with a heart between them.
"I owe it all to you,,, Rest In Peace Stan… #MCU #Excelsior #legend #rip #stanlee #TeamStark (@jimmy_rich)," he said.
Josh Brolin, who plays Thanos in the Avengers films, said Lee ranked alongside authors Dr Seuss and Ray Bradbury.
He said: "That's where it begins and ends with me," he said. "To those of us who have been so deeply affected by the humanity of his imagination, the understanding of reaching beyond our potential and the necessity of tapping into our immeasurable imaginations, we thank you and are forever indebted."
Deadpool star Ryan Reynolds tweeted: "Damn… RIP Stan. Thanks for everything."
British actor and Spider-Man star Tom Holland said on Instagram: "How many millions of us are indebted to this guy, none more so than me.
"The father of Marvel has made so many people so incredibly happy. What a life and what a thing to have achieved. Rest in peace Stan."
Ant-Man star Paul Rudd shared pictures of him and Lee together.
He wrote: "Excelsior! Thank you for everything Stan xx."
Angela Bassett, who starred in Black Panther, tweeted: "Onward and upward to greater glory! Excelsior! Good man, Excelsior!"
Marvel Studios president Kevin Feige said: "No one has had more of an impact on my career and everything we do at Marvel Studios than Stan Lee.
"Stan leaves an extraordinary legacy that will outlive us all.
"Our thoughts are with his daughter, his family, and his millions of fans. #ThankYouStan #Excelsior!"
In a statement the Walt Disney Company, which bought Marvel Entertainment in 2009, saluted Lee's "unmatchable" life and career.
"Every time you open a Marvel comic, Stan will be there," it said. "Please join us today in remembering Stan 'The Man' Lee."
Chairman and chief executive Bob Iger added: "Stan Lee was as extraordinary as the characters he created. A super hero in his own right to Marvel fans around the world, Stan had the power to inspire, to entertain, and to connect.
"The scale of his imagination was only exceeded by the size of his heart."
Long-time rival DC Comics also issued its own tribute to the "true legend", hailing his efforts in making comic books more accessible.
The cast of The Big Bang Theory shared a picture of themselves with Lee, who appeared on the programme.
They said: "In loving memory of Stan Lee. It was an honor to have him on The #BigBangTheory. Thank you for being a real life super hero to so many generations. Your legend will live on."
The cause of Lee's death is not known.