 on the principle, so perfectly expounded by Oscar Wilde's Lady Bracknell, that every man should have an occupation, I was delighted this week to read the leaked list of oor ain Andy Murray's inspirational tips, on the premise that, aside from the day job, he needs something creative to do to keep his mind off sticking pins into carefully crafted dollies depicting Messrs Djokovic, Federer, Nadal, Berdych and the lower-rated Frenchman who just knocked him out of his most recent tournament in the Netherlands.
Making lists is the perfect pastime – it strains no muscles, it provides food for thought and it'll stand him in very good stead for compiling the guest and gift lists for his forthcoming nuptials, while his more extrovertly expressive fiancee decides on the something blue (apart from her language), that will take its place alongside the more traditional old, new and borrowed.
You also don't, when it comes down to listing, have to do anything about what you write down. It just looks good that you've got that far. It's an end in itself, if you're lucky and gets it out of your system.
Andy has taken some stick (no change there then) for one or two of the non-technique-related hints, from "Try your best" to "Be good to yourself" and it has to be said that they do smack somewhat of stating the bleedin' obvious. Although speaking as someone who can't even remember the bleedin'obvious while simultaneously walking and carrying the remote, let alone act decisively upon it when facing down a world-class opponent in front of a global audience of millions, it never hurts to be reminded of these things now and again.
The man's a tennis player, for God's sake; as far as I know, he has never claimed to be Jean Paul Sartre or even Albert Camus who was, it should be remembered, a junior football goalie.
He once stated: "All that I know most surely about morality and obligation, I owe to football." He also won the Nobel Prize which gives him a bit of an existential start on Gigi Buffon or Samir Handanovic, not to mention A Murray Esq, bright and thoughtful though he undoubtedly is. Sticking with what you know and what you can take in in times of stress has a lot to recommend it.
I reckon that it is sometimes better to listen to yourself and the expression of your gut instinct, no matter how cliched or banal it sounds when said out loud or written down, than to too many of the pontifications of others. Good advice is good to have and knowing when to take it and what to take from it is an undoubted art in itself.
But in my experience, people are only too glad to share with you their own largely unconsidered opinions on the great truths of life, whether they have a jot of relevance to you.
Mention the slightest problem or difficulty or even that you're thinking deeply about something for more than five minutes and it's all: "Ah, well, if I were you…" or "You don't wanna do that…" or "Well, I wouldn't be starting from there…"
And these days, there's probably an app for it.
You can't even get away from them when you're travelling around. Is it just me or are there more and more of these pointless, obvious and hugely irritating electronic road signs about, advising us all: "Seatbelts are the law", "Don't text while driving" and "Nazi zombies on hard shoulder"? Or something like that…
It could drive you crazy.
My personal favourite on the cosy musings front came from the auld Arbroath mother-in-law of a pal of mine who, trying to help her make a decision about something vital to the family, the future, life, the universe and everything, sooked her wallies sagely and opined: "If ye dinna ging, ye'll no' be there."
There is, quite literally, no answer to that, no matter how you try to pick the philosophical bones out of it. Or if that proves too rich for your blood, how about this sage piece of advice from lugubrious comic Steven Wright, particularly appropriate for a man about to set up a no doubt immaculately well-appointed marital home? "You can't have everything . Where would you put it?"
Me, I would advise the thoughtful Mr Murray to bin most of the folksy homilies – or at least commit them to memory and trash the notepaper – and stick to the tried and tested Scottish saying, uttered through clenched teeth in times of intolerable stress: "Geez a break!"
Especially if it's with serve, against Novak Djokovic, in the final set of his fourth grand slam of the year…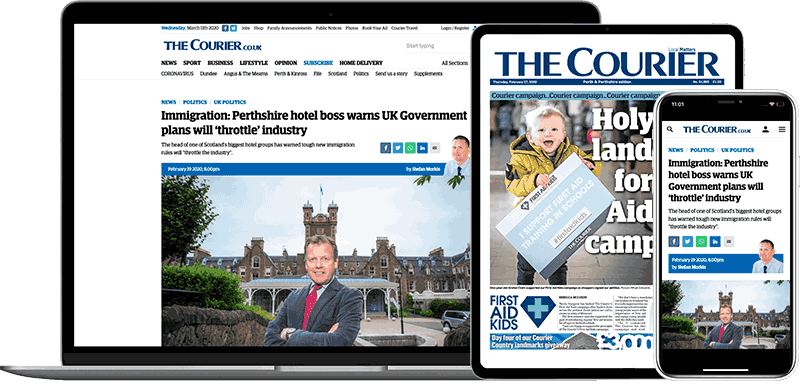 Help support quality local journalism … become a digital subscriber to The Courier
For as little as £5.99 a month you can access all of our content, including Premium articles.
Subscribe