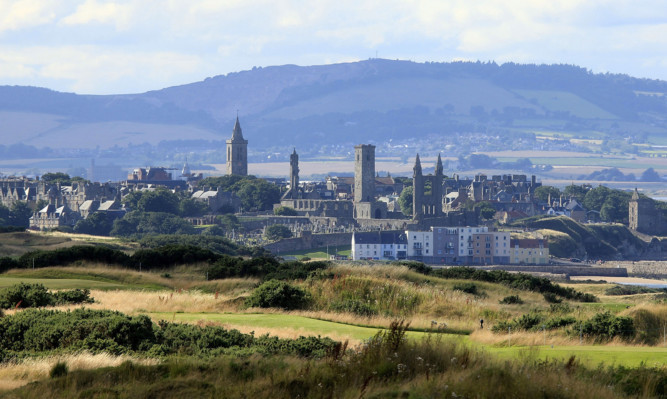 There is a junction on the M8 between Edinburgh and Glasgow named Eurocentral.
Public cash was spent on the off-ramps and flyover in the early 1990s in preparation for the arrival of the fast train line from the channel tunnel.
The political promise was Scots would soon be loading containers on flatbed rolling stock and moving their wares to the continent by super-fast train.
People could look forward to swift trips to Paris and Berlin the European dream made tangible by steel rails and rushing scenery.
The whole of the UK was sold the idea that the tunnel between England and France would bring swift train connections to us all.
The rolling stock of our trains had only just switched from carriages with sliding door compartments, where people sat four to a bench. On the continent they were already whizzing about in sleek modern trains.
Eurocentral seemed to presage a moment when we'd finally catch up with the 20th Century.
This was genuinely exciting it felt like modernity was about to power into Scotland, a super-fast train of enlightenment to counter the decaying industries and miserablism.
But the train never came. Well, the line was not built. Not just to Scotland but anywhere beyond London. It's no surprise we are used to trains being late.
More big stuff
In the Budget, the Chancellor pledged more big stuff would be built, not least new train lines.
A big new line for London, something so obvious to politicians none of them have bothered to explain to the rest of the country quite why it is essential.
And new lines for the north of England, which seems more explicable as a proof of modernising a neglected part of the country.
Poor investment in infrastructure is a British failing, so any attempt to correct this is welcome.
However, as Eurocentral proves, saying something will be done and it actually happening are quite different. We are allowed to doubt that these projects will occur on time, if at all.
The puzzle is why there isn't more investment. Borrowing money right now is very cheap. It is an ideal moment to take a loan and mend the structure of the UK.
The Chancellor appears hamstrung by his own rules over borrowing he pledged to get it down but it's going up. A major infrastructure programme would push it up further.
Which makes you wonder why last year he created the National Infrastructure Commission to advise on what was needed.
Victim of posturing
George Osborne has become a victim of his own posturing. He pledged to "mend the roof while the sun shines" but has failed. The roof in this analogy is debt which is up while the sun is growth which is stalled.
He'd be better scrapping the homely language and committing to real infrastructure investment. That might kickstart the UK economy and at least mend the foundations, even if the roof is a lost cause.
With new tax and borrowing powers coming, Scotland must also decide on the best strategy. Infrastructure is devolved and the Scottish Government has done its best to invest to date, largely using private finance.
Scotland would benefit from a National Infrastructure Commission. For a start, it could judge whether a fast train will ever stop at Eurocentral.
Readers will have their own list of projects necessary to modernise our nation. Mine starts in Fife.
Bafflement
It is a thing of constant bafflement that the A92 abandons its width at Kirkcaldy, as if exhausted by the effort. It should be dual-carriageway all the way to St Andrews and also to the Tay Bridge.
It's daft that the jewel of St Andrews doesn't have a train line which actually gets into the town precincts.
Is the Kingsway still fit for purpose? Dundee could do with a proper bypass.
Scotland's great assets are space and beauty but we make it unnecessarily hard to enjoy these. The A9 is finally being dualled but go west and it can take hours to reach the wonderful landscape of Glen Coe or the Isle of Skye.
Attempt to head west from the A9 at Dalwhinnie and the road is single track for lengths. Taking a train to Wick from Edinburgh is like going on a meditation retreat, it takes so long.
Such investment pays off by increasing land prices, boosting businesses and encouraging tourists all of which means increased tax revenues.
A Scottish National Infrastructure Commission could provide a longer list of possible projects, assess their value to the economy and therefore give a rough timescale when the investment might be paid off.
Modern Scotland owes a great deal to the train lines which first brought tourists in the 19th Century to enjoy spa waters and romantic landscapes, as it is also in debt to Tom Johnstone and the investment in hydro-electric dams, pipes and stations in the 1950s.
With new tax and borrowing powers coming, it's time we had a national conversation about what we need to ensure future success. Something more than political promises and road signs would be welcome.