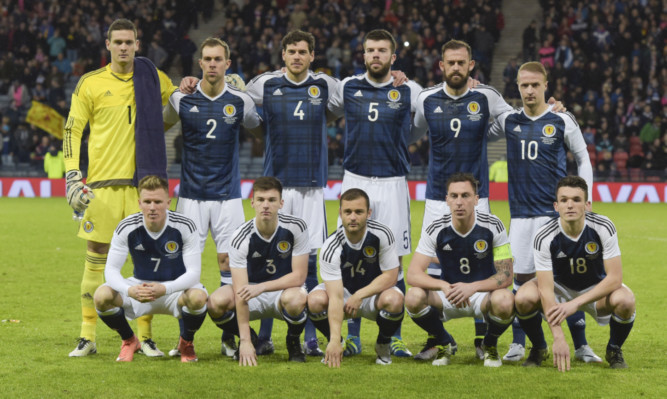 Gordon Strachan finally relents and plays two centre-forwards while England endure a topsy-turvy few days. Also, United face Saints and Fife clubs on the up. Courier sport writers Eric Nicolson and Neil Robertson tackle the burning issues…
Q: Two games, two wins. Good international break for Scotland then, I presume?
EN: It was definitely a qualified success. Qualified because, as always with friendlies, there was no real pressure on either match. It is important that we don't go into the World Cup group games on a downer, though. And, whether you like Gordon Strachan or not, it's important that the players are right behind him. There can be no doubting that.
NR: Scotland did all that was asked of them in the double-header two wins and two clean sheets. More than one player after the Denmark game insisted that the national side are building some momentum but of course a true assessment can only be made after the next competitive games.
Q: Gordon Strachan relented at last and played two centre-forwards. Can you see him doing the same when the World Cup qualifiers come round?
EN: No. I was surprised he even gave it a go. Mind you, Steven Fletcher was dropping so deep that Leigh Griffiths was effectively a lone striker a lot of the time. It will be one up front when we get down to serious business again. I hope that one will either be Griffiths or Ross McCormack but I suspect it will be Fletcher.
NR: Like Eric I would be very surprised if Strachan opted for a two-pronged attack in the qualifiers. However, it may be something he looks at again, simply because the experiment only lasted for 45 minutes before Fletcher had to be withdrawn.
Q: Do you think any of the new caps have a chance of forcing their way into the team for the first qualifier?
EN: Kieran Tierney probably has the best chance. If everybody is fit, midfield is an area of strength so John McGinn and Kenny McLean will probably have to bide their time. But Strachan will know now that he can count on them if needed. The direct running of Oliver Burke in his short substitute appearance against Denmark was encouraging for the future as well.
NR: Considering McGinn is playing in the Championship with Hibs at the moment the fact he took the huge step up to international football in his stride speaks volumes for the midfielder. He received a well deserved man-of-the-match award and Strachan would be a brave man if he left him out when the meaningful action begins again.
Q: It was quite a few days for England. Beat the World Champions from two down on Saturday and then lose at home to the Dutch, who aren't even going to the Euros three days later. Realistic contenders in France or over-hyped?
EN: When they've got a performance like the Germany one in them, I don't think you can call them over-hyped. Roy Hodgson has got some proper talent in midfield and up front to call on. It isn't the same story at centre-back, however. There will be a game probably the quarters or semis when that defensive frailty will cost them.
NR: Hodgson probably regrets making so many changes for the Holland game with all the momentum of the stunning win against Germany now lost. However, the current squad undoubtedly has potential. Whether it can fulfil that when it really matters as well as cope with the undoubted hype that will surround the England team in France remains to be seen.
Q: Anyway, that's enough of the international stuff, let's get back to the club game. We've got another Tayside derby to look forward to at the weekend. Both St Johnstone and Dundee United should be confident going into this one, shouldn't they?
EN: Correct. Saints are coming off the back of probably their second best result of the season, while that late goal in the Dundee derby has kept United's momentum going.
NR: Considering the season United have had, I am not sure if "confident" is a word that can ever be used to describe them. They will have received a boost from that last-gasp draw against Dundee but I have a sneaky feeling that Saints' stunning win at Tynecastle could be the launching pad for another good run for Tommy Wright's side.
Q: State the case for United ending their terrible run against Saints . . .
EN: Saints have got a few injury problems for one thing. And surely this run has to end at some point.
NR: I'm afraid I can't! Yes, Saints will be stretched because of injuries and suspension but I just cannot see United being strong enough to break them down or to prevent them scoring.
Q: OK. That's the tangerine-tinted version. But there must be a stronger argument that it will be the same old story?
EN: There is. Saints have got a better team and are under much less pressure. And the psychological hold they have over United has been a factor so many times that you can't dismiss it for this encounter.
NR: United have only won once in the last 10 matches between the sides which says it all really. If Mixu's men are to overcome the odds, they simply have to win the mental battle as well as the physical one.
Q: With all the Mixu carry-on and United's predicament, Dundee's diminishing top six hopes haven't had the same attention. But they're surely at the must-win stage against Ross County?
EN: I certainly wouldn't fancy their chances if they lost. I've given up predicting Dundee's season. I thought they were strong favourites for fourth when I watched them beat Saints a few weeks ago and now they might not even make the top six. Neither scenario would surprise me now.
NR: If Saints are United's bogey side, Ross County are something similar for the Dark Blues but even if they do end their long hoodoo and beat the Staggies at Dens, they still face two tricky games against champions-elect Celtic at home and then Hamilton away. However, there are still only four points between themselves and Motherwell in fifth so they could yet sneak into the top six come the split.
Q: Paul Hartley's already been busy with pre-contract signings, James Vincent and Danny Williams. Are the two Inverness boys good additions to the squad?
EN: Neither have stood out when I've seen Caley play, I must admit. On that basis, they'll bolster the squad. I'll need to see more before I would say they strengthen the first team, though.
NR: Like Eric, I have not seen enough of either to make an informed opinion. Last summer, though, another Inverness player Nick Ross arrived at Dens with little fanfare and he has become one of the first names on Hartley's team sheet. He will no doubt be hoping the new duo have a similar impact.
Q: Going down a league, Raith's run of form has gone under the radar a bit as well. Sum up Ray McKinnon's achievement in all but securing a play-off place.
EN: Pound for pound, McKinnon has probably done the best job of any manager in that league. It's all about timing of course, but he looks like a future United manager to me.
NR: Considering the shoestring budget he is working with, it is nothing short of incredible that McKinnon has put together a squad that barring some incredibly unlikely series of results will take part in the play-offs. Rovers can play football but they are also an incredibly fit side and would certainly be a handful if they made it through to a play-off against the team that finishes second bottom in the Premiership.
Q: Going down another division, Dunfermline have sealed the deal and won the League One title. It's a bit early to start predicting next season, but how do you expect them to get on in the Championship?
EN: Mid-table at worst. I'm pretty sure their star striker, Faissal El Bakhtaoui will be off in the summer, but they've got a better production line of talent at East End Park than some Premiership clubs, which will mean relegation won't be a worry. The Pars could be an outside bet for the play-offs.
NR: Dunfermline have everything in place to be a big success in the Championship next season with a strong full-time squad. They should have no problem persuading manager Allan Johnston to sign a new deal. The feeling is that he is going to be there for the long run and hopefully take the Pars back into the top tier of Scottish football.