 Hampden Park has had its day in the sun and it's now time for Scottish football to put the old stadium out of its misery.
It will host two Scottish Cup semi-finals this weekend, but they should be among the last major football events to be held there.
The national stadium is a national disgrace and no more money should be wasted on it.
The semi-finals will be played at a ground where apart from the main stand where corporate fans are housed, a miserable viewing experience is assured for the majority of supporters.
They will shell out their hard earned cash at a stadium tarted up on the cheap, difficult to get to, with poor parking facilities, and where the action is best watched through binoculars, given the huge distance which both ends are from the pitch.
The pitch has once again been relaid after proving countless times that it's no better than those which many junior teams play on.
Why do we need national stadium anyway? The Germans, French and Italians seem to manage fine taking their matches around their respective countries.
Celtic Park has a bigger capacity and is much more atmospheric, and Ibrox almost matches Hampden for capacity. Even better though is Murrayfield, capable of holding 67,000 and with a hybrid pitch and facilities which leave its Glasgow counterpart in the shade.
The nonsense that football should not give money to rugby needs to be knocked on the head. In a country of five million souls a sharing arrangement between the SRU and the SFA is long overdue.
It's time to knock heads together. If football and rugby governing bodies can't agree to share Murrayfield not another penny of public money should go to either them or their respective sports, from the public purse.
Smaller international matches could be held at Easter Road and Pittodrie, both of which accommodate around 20,000, and Tynecastle will shortly have a similar capacity once the new stand is built.
It is also incredibly galling to fans that the so-called national stadium should have two ends unofficially accepted by the governing bodies as the Celtic and Rangers ends.
It's noticeable that both Glasgow clubs get these ends regardless of the opposition in any final.
For too long the rest of Scottish football has kow-towed to an agenda set to suit Glasgow football, or to be more precise, Celtic and Rangers.
The Scottish game has changed. You only have to look at the number of top flight clubs now playing from Perth and all points north of the Tay.
Hampden has had a glorious past but that is just where it belongs. It is a relic of a bygone age.
It is time for Scottish football to look to the future. There is no need to squander money on a new state-of-the-art national arena. We don't need one in a country of this size. Any spare cash is better spent on grassroots development.
If we need a base for a national stadium, let's make it 40 miles from Hampden: at Murrayfield.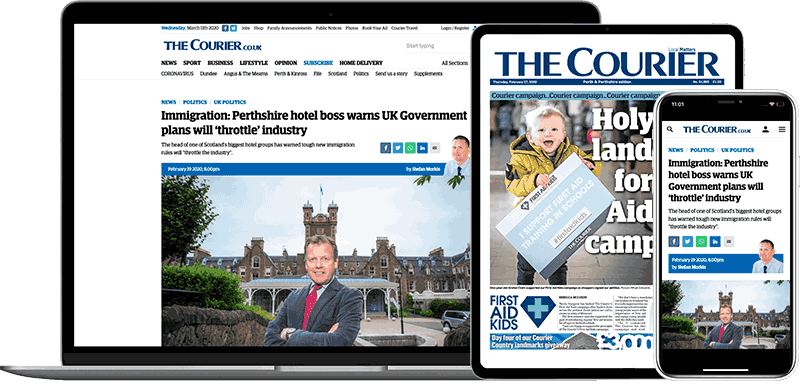 Help support quality local journalism … become a digital subscriber to The Courier
For as little as £5.99 a month you can access all of our content, including Premium articles.
Subscribe