 There was good news and even better news for Dundee United as they revealed excellent financial figures that will eventually become fabulous.
Firstly, the good news was that they have made a profit of £1.218 million for the period to June 2014.
The even better news is that the figure does not include the bumper transfer fees for Andy Robertson, who joined Hull City for £2.85 million, and Ryan Gauld, who was signed by Sporting Lisbon for an estimated £3 million.
It is all a long way away from the Armageddon forecast for Scottish football not too long ago.
Those windfalls will make their way into the next set of accounts for the year to June 2015, pushing the Tangerines deep into the black to the tune of around £5 million.
The £1.218m figure revealed yesterday is due largely to the renegotiation of the club's debt to Bank of Scotland, which was turned into soft loans to a "friendly" group of wealthy supporters.
A chunk of the Gauld and Robertson money will be used to reduce the soft debt over time but there is no pressure to do so, unlike the dark days when the club's bankers would be looking for the debt figure to be driven down as quickly and as often as possible.
Chairman Stephen Thompson, speaking in the boardroom at Tannadice along with fellow director Derek Robertson, was understandably delighted with the club's now buoyant financial position.
"There is a profit of £1.218 million and a lot of that is in relation to what we agreed with the bank," said Thompson.
"We no longer have any bank debt.
"We do have (soft) loans but those will be paid back.
"That repayment will be through choice and details will remain private between us and the individuals concerned.
"It has not been easy to get to where we are as regards the profit.
"Other clubs have managed to renegotiate their debt etc, which is good for the game, but none of us can now go to the banks when times are tough to get any lending.
"So there is still a lot of hard work ahead.
"It is very tough to have both football ambition on the park and to get the cash figures right.
"Our strategy has been to bring young players in and keep them for at least a couple of years or even longer before trying to maximise the profit when we sell them on.
"That is why we are putting money into Gussie Park, with the official launch of the new community facilities there probably at the beginning of March.
"That redevelopment will help us persuade even more talented young kids to come here."
The debt reduction has seen interest payments go down by £64,000 in just a year.
The wage bill increased by £200,000 to £3.5 million, mainly due to improved performance payments, while revenue increased by 3% to £5.6 million.
It all adds up to a happier boardroom compared to even just a few years ago.
Thompson added: "In the past we were under pressure during every transfer window, with the bank looking to reduce the debt.
"I recall turning down £1.2 million for David Goodwillie at one time from Blackpool and the bank went mental.
"I said, though, that we were looking to get £2 million plus for him and so it proved.
"It was pretty horrific back then but the pressure is not the same now.
"We were able to set the bar very highly in the summer and we got good deals for our players."
One player who has been the subject of a rejected verbal bid from and unnamed English lower league club is Gary Mackay-Steven.
Just like manager Jackie McNamara, Thompson is keen to keep the winger but is realistic about the situation.
"Gary has been made an offer by us and we have been trying to get him to stay for many months now," added the chairman.
"We can't do any more than that. We can't spend £100,000 a week on him!
"He also has his own ambitions and has made it clear that he wants to try elsewhere.
"There has been a verbal offer for him and it was turned down.
"GMS is a difficult one because he only has 21 weeks left on his contract.
"He has played very well in the last two games and it's difficult.
"I have no idea if there will be more bids but we know what he wants to do and I think we have done as much as we can to try to keep him.
"You look at the 2010 Scottish Cup winning team and the only player we did get money for was Goodwillie. We had an offer for Craig Conway that we turned down.
"So you live and learn by a lot of things and we'll just see what happens."
Thompson also revealed that Rangers pursued the money they are due for Charlie Telfer a day before it had to be paid.
The Tannadice club were ordered to pay £204,000 for the midfielder after an SPFL tribunal set the fee last month following his summer switch.
Rangers are scheduled to be paid tomorrow but the Ibrox club, who have had to take a loan of £500,000 from director Sandy Easdale to ward off HMRC, sent a reminder a day early.
Thompson last night assured the Light Blues they will get their money on time.
He said: "I think we've had a reminder from Rangers today that the money is due so they will be paid on time."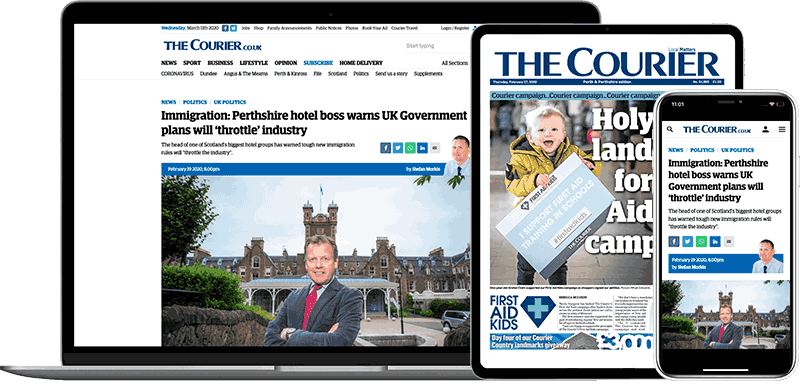 Help support quality local journalism … become a digital subscriber to The Courier
For as little as £5.99 a month you can access all of our content, including Premium articles.
Subscribe