Dundee United chairman Stephen Thompson is refusing to rush into appointing a new manager despite the club's perilous league position.
Defeat to Partick Thistle at Firhill on Saturday will see the Tangerines sink to the bottom of the Premiership table.
Several possible candidates to replace Jackie McNamara have already been mentioned, although not by Thompson, and it must be tempting to bring someone in ahead of such an important match in a bid to get a "new boss bounce."
Stuart McCall, Tommy Wright, Mixu Paatelainen, Jim McIntyre, Steven Pressley, Ray McKinnon, Billy McKinlay, Paul Lambert and even Northern Ireland boss Michael O'Neill have all been linked with the vacancy one way or another.
However, Thompson and the rest of the Tannadice directors want a bit of breathing space in which to consider their options.
That means the team to face Thistle will be picked by caretaker coach Dave Bowman with the help of club captain Sean Dillon.
The United chairman said: "I think it's about getting the right person.
"We have a game on Saturday and I don't see us having a manager in place before then.
"We have started the process and have been approached by a number of people as well but it's not about the numbers.
"It is about the quality as far as I'm concerned.
"I would rather have three good quality candidates than 70 people applying.
"We have started the process and (general manager) David Southern and I spent quite a bit of time on it yesterday.
"My number one priority is to get the right person in for this club."
Thompson defended the way McNamara's departure was handled, stating he at least "looked him in the eye" when the now former manager's fate was sealed.
The Tannadice chief argued that there was no easy way of breaking the news to a man who had given over 2 years of service to the Tangerines.
Indeed, he claimed it pained him to be the bringer of bad news.
Speaking at a media conference at Tannadice, he rejected criticism of the events after the final whistle at McDiarmid Park, when McNamara was handed a letter by Thompson that indicated United no longer wanted him in charge.
The formal parting of the ways did not arrive until late on Monday night, when it was confirmed that McNamara, his assistant boss Simon Donnelly, first-team coach Darren Jackson and goalkeeping coach Craig Hinchcliffe had agreed to leave by "mutual consent."
Asked if he had any regrets about how it was done, Thompson said: "Jackie only actually left the employment of the club last night (Monday).
"He was handed a letter on Saturday and asked to come to a meeting yesterday so some of the things reported aren't accurate.
"There is no right or wrong way.
"I have seen managers sacked with a phone call to their agent.
"The one thing I did do was look him in the eye and I also spoke to him as I handed the letter over.
"At least I did that.
"It could easily have been done by another employee of the club. It could have been done by anybody.
"I did that and you can criticise us if you wish.
"There are lots of different ways to do it but it's done and we move on."
Thompson was then asked about the letter and whether or not it had been drawn up some time before the loss to Saints.
He replied: "It wasn't in my pocket – it was in somebody else's.
"Like any business you've got to be organised and prepared for things and it could well have been torn up and thrown in the bin.
"You've got to be organised, though. We've got a business to run.
"There's no ideal time for any of these things because we have matches and training sessions.
"There is no perfect way of dealing with it. Once the decision is made you've got to move on.
"We took legal advice on how to handle it and that's what we did.
"The board had been discussing the position for quite some time – a week, two weeks, four weeks."
Thompson also denied that the directors had been lukewarm in their support of Jackie following the double sale of Gary Mackay-Steven and Stuart Armstrong to Celtic in the January transfer window.
He said: "We do feel as a board that we backed him.
"We have the third biggest budget in the league and I know that for a fact.
"We have spent nearly £500,000 in transfer fees in the last 18 months.
"We are also at a great facility at St Andrews, where we've got cooks, masseurs, backroom staff, overnight stays etc.
"That was the budget for this season set and the third biggest – and sitting where we are in the league the board felt we had to do something."
Significantly, Thompson revealed that whoever takes over form McNamara will not have a clause in his contract that entitles them to a percentage of future transfer income.
That he was employed on an incentivised deal was a revelation that hurt McNamara despite the board always having final say on all transfers, not the manager.
Thompson said: "It's unfortunate how it came out but it didn't come through me.
"I know how it happened but I will not go over that but it won't be in the next contract, that's for sure.
"Ultimately, it was myself and the board who decided about players so it wasn't the manager but you take his opinion, obviously.
"Folk can say it's a conflict of interest but I don't know about that.
"We have learned a lot through all that and you are learning all the time.
"The day you stop learning is the day you should give up.
"It wasn't ideal – there's no doubt about that.
"You have to move on but it was difficult for everybody, including Jackie."
On the issue of his own future Thompson, who is part of a consortium preparing to buy Australian club Newcastle Jets, stressed he will be staying at Tannadice.
He said: "I've no plans to move or live in any other part of the world.
"You might think: 'Lucky sod (to be) moving to Australia' but I've no intention of moving to that part of the world."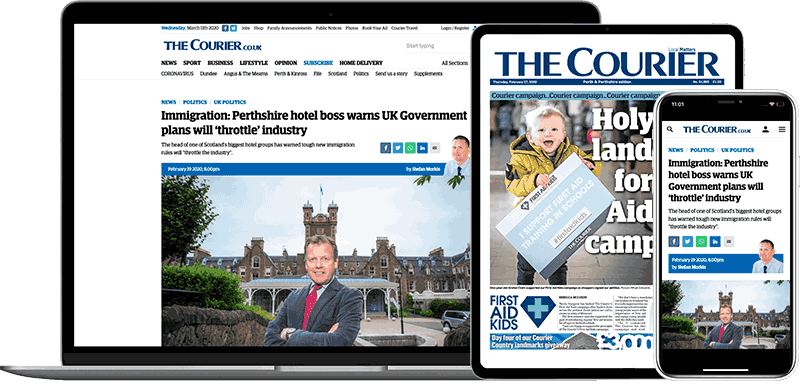 Help support quality local journalism … become a digital subscriber to The Courier
For as little as £5.99 a month you can access all of our content, including Premium articles.
Subscribe